This is an archived article and the information in the article may be outdated. Please look at the time stamp on the story to see when it was last updated.
President Trump is taking the future of health insurance into his own hands.
A day after Congress' last-ditch attempt to repeal Obamacare failed, Trump said he may soon sign an executive order on health care that would affect millions of people.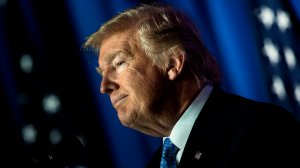 "I'll probably be signing a very major executive order where people can go out, cross state lines, do lots of things and buy their own health care, and that will be probably signed next week," he told reporters Wednesday. "It's being finished now. It's going to cover a lot of territory and a lot of people. Millions of people."
The president has made no secret that he's frustrated with Congress for failing to repeal Obamacare. On Tuesday, Republican leaders in the Senate shelved plans to vote on the latest repeal proposal after it failed to gain enough support.
Related: What happens to Obamacare now?
Instead, Trump now seems to be backing health insurance reforms pushed by Senator Rand Paul of Kentucky. Paul, who opposed the Senate repeal bill, wants insurers to be allowed to sell policies across state lines and for people to be able to form groups to buy coverage.
"I believe President Trump can legalize on his own the ability of individuals to join a group or health association across state lines to buy insurance," Paul said on MSNBC Wednesday. "This would bring enormous leverage to bringing down prices. It would also bring protection to individuals who feel left out, hung out to dry, basically."
Trump also promised to return to repealing Obamacare early next year, saying he's "almost certain" Republicans have enough votes. However, he also plans to negotiate with Democrats to "see if I can get a health care plan that's even better."