This is an archived article and the information in the article may be outdated. Please look at the time stamp on the story to see when it was last updated.
Vladimir Putin has extended his grip on Russia for another six years after an overwhelming victory in Sunday's presidential election, a result that was never in doubt.
With 99.8% of the votes counted, Putin won with 76.7%, according to Central Election Commission data. It means Putin will rule until 2024, when he will be 71 and obliged by law to step down.
Putin sailed to victory against the backdrop of wall-to-wall support from state media and with no serious challenger. His nearest rival, Communist Party candidate Pavel Grudinin, won 11.79%,while ultra-nationalist Vladimir Zhirinovsky took 5.7%. Former reality TV presenter Ksenia Sobchak was on 1.7%, while veteran liberal politician Grigory Yavlinsky received just over 1% of the vote.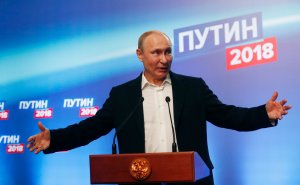 His fiercest opponent, Alexei Navalny, was barred from the race.
Putin, a former KGB spy, has dominated Russian politics for 18 years and the 65-year-old was already the country's longest-serving leader since Soviet dictator Joseph Stalin.
He declared victory in front of thousands of people gathered in below-freezing temperatures at Moscow's Manezhnaya Square near the Kremlin, where he called for unity in the country.
"We are a single team, I am a member of this team, and all those who cast their ballots today are members of our large national team," he said, after a colorful show of high-energy musical performances.
"I see this as a sign of trust and hope, the hope of our people that we will work as hard, with the same responsibility and effectiveness as before. Thank you for being such a powerful, millions-strong team. We will definitely succeed."
Although his victory was a foregone conclusion, the high score is a major boost to Putin, who already enjoys sweeping powers over his country. He won with 63.6% of the votes cast in the 2012 election.
Voter turnout was put at 67.5%, close to the 70% ambition of the Kremlin.
Under current Russian law, Putin can not stand for re-election. But he has not groomed a successor, prompting speculation he may try to find ways to extend his power beyond this term.
Uneven playing field
Putin's critics have slammed the election as unfair, citing the Kremlin's tight control over the media, quelling of the opposition and restrictions on some election monitors to ensure a free vote.
By early evening Sunday, the non-governmental election monitoring group Golos had counted 2,000 incidents of voting irregularities, including observers being prevented from carrying out monitoring.
The vote was a huge logistical undertaking, taking place across Russia's 11 time zones over 22 hours, in around 97,000 polling stations, according to the Central Election Commission.
One-horse race
The Kremlin had aimed for a turnout of more than 70% to cement its legitimacy, but the election period was muted and marked by a sense of voter apathy.
Alexander G, a 23-year-old model, said he abstained from voting.
"For now it's just one Putin, and other candidates are a circus — we don't really have an option," he told CNN outside a Moscow cafe on Sunday night.
His friend, 21-year-old modeling agent Max V, also chose not to vote, saying there weren't enough candidates to choose from.
"Everyone knows that Putin will be the president again. I would have like to have had an option. I think there will be an alternative one day but many years later."
Several Russians told CNN of a culture of pressure to support the President. A public service employee who asked to remain anonymous said that all the workers in his office were verbally told to go to a celebration rally commemorating the election on Sunday evening.
"A satisfied Putin will come out and give a speech," he said.
Putin: UK poisoning row 'delirium'
There was little fanfare in the campaign period and Russian news was dominated by developments in political crises between Russia and Western powers.
Russia has been embroiled in a diplomatic crisis with the UK in the run-up to the vote over the poisoning of a Russian ex-spy, his daughter and a police officer on British soil earlier this month.
British Prime Minister Theresa May has openly blamed Russia for the incident, which UK officials say involved a military-grade nerve agent. After declaring victory Sunday, Putin flatly denied Moscow played any part in it.
"Any sensible person would understand that this is just a kind of delirium, it's nonsense, it's unthinkable we would do such a thing," he said.
"I (found out) about that in the media and the first thing that came to my mind was that if it's a military-grade agent, they would have died instantly on the spot."
Both countries have expelled diplomats over the row.
Relations with the United States took another hit after Washington on Thursday announced new sanctions on Russia over its reported meddling in the 2016 US presidential election. Russia has vowed retaliation.
Despite criticisms of the Kremlin's actions ahead of the election, Putin is a genuinely popular figure in Russia, and confrontation with the West has boosted his approval ratings, past polling shows.
Crimea votes
Russia's parliament, which is controlled by Putin's United Russia party, moved the vote date back to March 18 to coincide with the fourth anniversary of Russia's annexation of Crimea from Ukraine.
Sunday's election was the first presidential vote on the Crimean peninsula since Moscow annexed the territory from Ukraine in 2014, prompting a further decline in Russia's relations with the West.
But Kiev refused to allow Russians in the country to vote at consulates, according to a statement from the government information agency Ukrinform. Only Russian diplomats were allowed to access official Russian premises.