This is an archived article and the information in the article may be outdated. Please look at the time stamp on the story to see when it was last updated.
Russia blocked a United Nations Security Council resolution on Thursday that would have renewed a mandate for the independent group investigating chemical weapons attacks in Syria.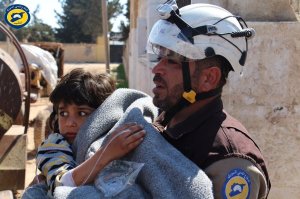 Russia's move drew harsh criticism from US Ambassador Nikki Haley, who said Russia had struck a "deep blow" to UN efforts to identify those using chemical weapons and deter future attacks.
France, which voted in favor of renewing the mandate for the Joint Investigative Mechanism (JIM), also expressed alarm.
"It promises great difficulties for the future," French Ambassador François Delattre told the council.
In April, more than 80 people were killed in a sarin attack on the rebel-held town of Khan Sheikhoun — an attack that prompted the United States to launch 59 Tomahawk cruise missiles at a Syrian airbase.
A joint report from the United Nations and international chemical weapons inspectors last month determined the Syrian regime of Bashar al-Assad was responsible for the attack.
Syria has repeatedly denied it had anything to do with the attack and denies it has any chemical weapons. Damascus has said an airstrike hit a chemical weapons depot in the rebel-held area.
Thursday's resolution received 11 votes in favor and two against, with two abstentions. But because one of the votes against it was from Russia, a permanent council member, the resolution failed to pass.
It means that the JIM's mandate expires at midnight Thursday, rather than be extended for another year.
Russian objections
Russian Ambassador Vassily Nebenzia said Russia's issue was not with the work of the investigators, but with their mandate. Russia vetoed an October resolution to extend the mandate, saying the group is prejudiced against Russia, and on Thursday the ambassador again cited "flaws" with the investigators' work.
"There was nothing balanced in the US draft resolution. There was nothing balanced there," Nebenzia told the council.
Russia put forward its own resolution on extending the mandate, but it was rejected after receiving only three votes in favor.
Haley tweeted after the vote that "by using the veto to kill a mechanism in Syria that holds users of chemical weapons accountable, Russia proves they cannot be trusted or credible as we work towards a political solution in Syria."
US President Donald Trump had urged all Security Council members to renew the mandate to ensure that Assad's regime "does not commit mass murder with chemical weapons ever again."
As part of their work, UK Ambassador Matthew Rycroft said before the vote, the JIM investigators had looked into "the frankly ridiculous conspiracy theories that some were coming up with to explain away the use of chemical weapons in Syria by the Assad regime."
Rycroft said after the veto that Russia has "failed as a supposed supporter of peace in Syria," but Nebenzia disagreed.
"It would seem that we are united on one goal — to extend the mandate of the mechanism and to boost its effectiveness to identify the true perpetrators in chemical weapons crimes," he said. "However, it turned out that some of our partners at the UN Security Council were guided by other priorities."
Nebenzia urged more discussion on the issue of weapons of mass destruction, saying "delays in this matter are liable to carry a very high price."