This is an archived article and the information in the article may be outdated. Please look at the time stamp on the story to see when it was last updated.
House Speaker Paul Ryan says he has no interest in working with Democrats on getting health care legislation passed, disputing a suggestion by the White House to reach across the aisle and bypass conservative House Republicans.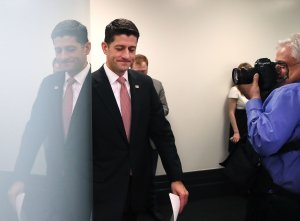 "I'm trying to get this bill passed," Ryan said on CBS's "This Morning." "Nancy (Pelosi) and I see things very, very differently. I don't want government running health care."
"I don't want that to happen. I want a patient-centered system," Ryan added.
Earlier this week, White House press secretary Sean Spicer said President Donald Trump is "absolutely" willing to work with Democrats on a way forward on health care.
"What I worry about, Norah (O'Donnell), is if we don't do this, then he'll just go work with Democrats to try to change Obamacare — and that's hardly a conservative thing," he said.
"If this Republican Congress allows the perfect to become the enemy of the good, I worry we'll push the President to working with Democrats. He's been suggesting that much."
The Wisconsin Republican said he hopes that Republicans can come together and figure out a solution to repealing the Affordable Care Act.
"Plan B is we keep talking to each other and figure out how we get to yes," he said.
Ryan also said he does not believe that Trump is under investigation for ties to Russia.
"I have no knowledge to that. I do not believe that's the case," he said.
"I won't speak for the FBI, but I've never seen any suggestion or any evidence that that's the case."