This is an archived article and the information in the article may be outdated. Please look at the time stamp on the story to see when it was last updated.
White House press secretary Sean Spicer defended Monday the Trump administration's omission of any reference to Jews in its Holocaust remembrance statement, saying "nitpicking" of the Friday statement is "just ridiculous."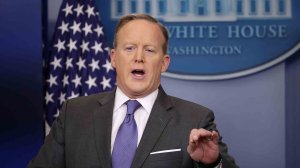 President Donald Trump "went out of his way to recognize the Holocaust," Spicer said, referring to the statement released by Trump's White House press office Friday.
"The statement was written with the help of someone who is both Jewish and the descendent of Holocaust survivors," Spicer said.
It seemed to be a clear reference to Trump's son-in-law and White House adviser, Jared Kushner. But asked moments later about Kushner's involvement, Spicer said: "I'm not getting into who wrote it."
"To suggest that remembering the Holocaust and acknowledging all of the people — Jewish, gypsies, priests, disabled, gays and lesbians — it is pathetic that people are picking on a statement," Spicer said.
The kerfuffle sprung up after the Trump White House made no mention the systemic targeting and killing of Jews during the Holocaust.
"It is with a heavy heart and somber mind that we remember and honor the victims, survivors, heroes of the Holocaust," Trump said in his statement. "It is impossible to fully fathom the depravity and horror inflicted on innocent people by Nazi terror."
The American Jewish Committee quickly criticized Spicer's statement.
"Sorry @PressSec, it's never pathetic to stand up for the memory of the six million Jews murdered in the Holocaust," the group tweeted at Spicer.
Asked about the White House explanation that the President didn't want to exclude any of the other groups Nazis killed by specifically mentioning Jews, Anti-Defamation League President Jonathan Greenblatt told CNN after Friday's statement was issued that the United Nations established International Holocaust Remembrance Day not only because of Holocaust denial but also because so many countries — Iran, Russia, Poland and Hungary, for example — specifically refuse to acknowledge Hitler's attempt to exterminate Jews, "opting instead to talk about generic suffering rather than recognizing this catastrophic incident for what is was: the intended genocide of the Jewish people."
Downplaying or disregarding the degree to which Jews were targeted for elimination during the Holocaust is a common theme of nationalist movements like those seen in Russia and Eastern Europe, Greenblatt said.
Trump also faced criticism from the Republican Jewish Coalition, a group heavily funded by GOP mega-financier Sheldon Adelson.
"As supporters of President Trump, we know that he holds in his heart the memory of the six million victims of the Holocaust, and is committed not just to their memory, but ensuring it never happens again," said the group's spokesman, Fred Brown.
"The lack of a direct statement about the suffering of the Jewish people during the Holocaust was an unfortunate omission. History unambiguously shows the purpose of the Nazi's final solution was the extermination of the Jews of Europe. We hope, going forward, he conveys those feelings when speaking about the Holocaust."