This is an archived article and the information in the article may be outdated. Please look at the time stamp on the story to see when it was last updated.
Republicans were served another reminder of President Donald Trump's unpopularity Tuesday as Democrat Jon Ossoff nearly captured a House seat in a region that for decades has been a conservative stronghold, with the Democrat ultimately falling just short of the percent needed to avoid a runoff.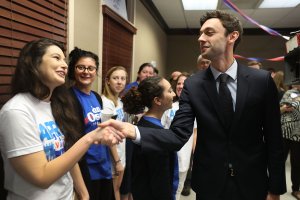 CNN projects that Ossoff will miss the 50 percent he needed to win outright. He and the other top vote-getter — Republican candidate Karen Handel — will now face off on their own in June.
The hotly contested race carried major implications as a gauge of the President's popularity — and Trump himself seemed to grasp the high stakes, playing a direct role in its closing days.
Democrats saw it as an opportunity to drive a wedge between Trump and congressional Republicans fearful that he could drag down the party in the 2018 midterms — while also delivering a psychic boost to an energized progressive base.
They nearly pulled it off. And two months later, Ossoff will get a second shot in a one-on-one runoff with Handel albeit an uphill climb now that the Republican vote in a reliably GOP district will be consolidated behind one candidate.
It was a strong showing for the Democrats in an unusual "jungle primary" in a district that Mitt Romney won by 23 points in 2012, and where Republican Rep. Tom Price was re-elected with nearly 62 percent of the vote in 2016 before being named Trump's health and human services secretary.
Trump has weighed in on the race in recent days, tweeting at least four times, most recently to criticize Ossoff for not living in the district.
"Just learned that Jon @Ossoff, who is running for Congress in Georgia, doesn't even live in the district. Republicans, get out and vote!" Trump tweeted on Tuesday afternoon, just hours before polls close.
Trump also recorded a robocall attacking Ossoff the evening before the special election and telling voters they need to vote for any of the Republicans in the field.
A White House official told CNN that Trump was personally invested in the special election.
Ossoff defended himself against criticism of where he lives earlier Tuesday.
"I grew up in this district," Ossoff said, speaking to CNN's Alisyn Camerota on "New Day." "I grew up in this community. It is my home. My family is still there."
Ossoff has said he'll move back to the district after his girlfriend finishes medical school nearby.
"It's something I've been very transparent about," he said. "I am proud to be supporting her career. As soon as she finishes her medical training, I will be 10 minutes back up the road where I grew up."
Ossoff benefited from being the only serious Democrat candidate, while Republicans have seen infighting among their 11 candidates — including several with high-profile support and campaigns, including Handel, state Sen. Judson Hill, businessman and former state Sen. Dan Moody and Johns Creek City Councilman Bob Gray.
For Democrats, the race also offers a preview of its 2018 roadmap. The suburban district has all the characteristics — diversity, including Latino voters, higher-than-average education levels and a younger population — of those it hopes to flip in areas like Orange County, California, and the Texas suburbs.
It took a sudden evolution for the district to become competitive at all. Mitt Romney carried it over Barack Obama in the 2012 presidential election by more than 23 percentage points, after all.
But 2016 told a much different story. Trump bested Hillary Clinton in the district by just 1.5 points. And Clinton carried Cobb County — a key population base of the district. It was the first time a Democrat had won Cobb County since Georgia's Jimmy Carter was on the ballot.
Democrats, though, note that Ossoff — who has dominated the airwaves — has still faced an onslaught of more than $4 million in attack ads from the National Republican Congressional Committee and the Congressional Leadership Fund super PAC.
Election Day has not been entirely without drama: State officials are investigating the thefts of several voting machines over the weekend, Candice Broce, spokeswoman for Georgia's Secretary of State, told CNN on Tuesday.
The machines were stolen Saturday from a voter poll manager's vehicle, according to a statement from the Cobb County elections office. The Express Poll Units are used primarily for voter check-in for one precinct.