This is an archived article and the information in the article may be outdated. Please look at the time stamp on the story to see when it was last updated.
Ted Cruz and John Kasich issued startling statements Sunday night about their paths ahead, the first sign the two campaigns are coordinating to deny Donald Trump the Republican presidential nomination.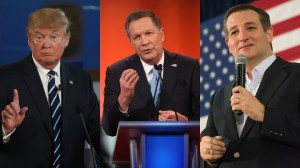 Within minutes of each other, the pair issued statements saying they will divide their efforts in upcoming contests with Cruz focusing on Indiana and Kasich devoting his efforts to Oregon and New Mexico. The strategy is aimed at blocking Trump from gaining the 1,237 delegates necessary to claim to GOP nomination this summer.
Cruz campaign manager Jeff Roe said in a statement the Texas senator will focus on the May 3 Indiana primary while the Ohio governor will have a free hand in the Oregon and New Mexico primaries in the flowing weeks.
In the statement, Roe called Trump at top of ticket "a sure disaster," adding "to ensure that we nominate a Republican who can unify the Republican Party and win in November, our campaign will focus its time and resources in Indiana and in turn clear the path for Gov. Kasich to compete in Oregon and New Mexico".
Kasich's chief strategist, John Weaver, said in a separate statement: "Due to the fact that the Indiana primary is winner-take-all statewide and by congressional district, keeping Trump from winning a plurality in Indiana is critical to keeping him under 1,237 bound delegates before Cleveland. We are very comfortable with our delegate position in Indiana already, and given the current dynamics of the primary there, we will shift our campaign's resources West and give the Cruz campaign a clear path in Indiana."
NEWS: Kasich campaign will marshal campaign resources to New Mexico and Oregon, allow Cruz to focus on Indiana. pic.twitter.com/auUIUX961O

— Team Kasich (@TeamJohnKasich) April 25, 2016
Cruz Campaign Releases Statement on Upcoming Primaries: https://t.co/8GcWdXQ4aO

— Team Cruz (@TeamTedCruz) April 25, 2016