This is an archived article and the information in the article may be outdated. Please look at the time stamp on the story to see when it was last updated.
A terminally ill Santa Clarita woman is among three plaintiffs who recently sued the state of California for the right to end their lives, according to a news release from Compassion & Choices, a non-profit aiming to expand choice at the end of life.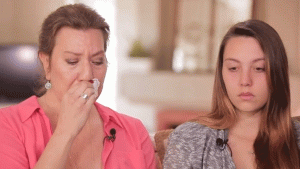 The lawsuit, filed Friday in California Superior Court in San Diego County, asserts that the state's constitution and current laws should allow terminally ill adults who are mentally competent to request prescription medication in their final days to help them die "painlessly and peacefully," the release stated.
In conjunction with the filing, Compassion & Choices also released a new video featuring lead plaintiff Christy O'Donnell, a 46-year-old single mother from Santa Clarita.
O'Donnell, a Republican civil rights attorney and former sergeant with the Los Angeles Police Department, was diagnosed with stage IV lung cancer in June 2014, according to the video that was posted on the organization's YouTube page.
O'Donnell said she has led an active, healthy lifestyle and never smoked a cigarette.
Related: In Her Final Days, California Woman With Lou Gehrig's Disease Fights for 'a More Dignified and Peaceful Death'
"I've lived 10 people's lives in my 46 years. I've had the joy of motherhood, which has been the greatest love of my life," she said, her voice choking up as she sat next to her 20-year-old daughter Bailey. "So, because of that, I'm not afraid to die. But not being afraid to die is not the same as wanting to die. I don't want to die."
Despite receiving weekly chemotherapy for the past nine months, the cancer has metastasized to her brain, spine, ribs and liver, the news release stated. She has been given less than six months to live.
Doctors have told O'Donnell her death will be slow and painful.
"The most likely way that I'm going to die with the lung cancer is that my left lung will fill with fluid, I'll start drowning in my own fluid," O'Donnell said in the video, which was recorded on March 4.
She said she could go to a hospital where doctors will "very painfully" drain the fluid from her lungs with a tube. Eventually, however, her lung will start to fill with fluid again, and the process of "drowning painfully" will repeat until her death.
For her, it's all about having a choice.
"With a physician-aided death, I would have the choice to seek out and ask a doctor for a prescription, I choose whether to fill the prescription, I choose whether or not to take the prescription, and I choose when to do it, I choose where to do it and with whom to do it," she said.
By filing the lawsuit, O'Donnell hopes that such options will eventually become available for terminally ill adults across the U.S.
The two other plaintiffs in the suit are Elizabeth Wallner of Sacramento, who has stage IV colon cancer, and Ventura resident Wolf Breiman, who has an incurable cancer of the white blood cells called multiple myeloma, according to the non-profit.
The lawsuit alleges, among other things, that the plaintiffs' rights to privacy and free speech have been violated, a copy of the legal complaint stated.
It coincides with a legislative campaign in the state that, if passed, would authorize medical aid in dying.
Senate Bill 128, the End of Life Option Act, is "closely modeled" after Oregon's Death With Dignity Act and was recently approved by the senate's Health and Judiciary Committees.
The Senate has until June 5 to pass the End of Life Option Act, according to the non-profit. If passed, the Assembly would have until Sept. 11 to approve the legislation.
Four other states — Washington, Montana, Vermont and New Mexico — currently allow medical aid in dying, according to Compassion & Choices.
Right-to-die laws gained nationwide attention last October when advocate Brittany Maynard, who was diagnosed with terminal cancer soon after getting married, moved from California to Oregon to utilize the state's Death With Dignity Act. She passed away on Nov. 2 at the age of 29.
More Video: