This is an archived article and the information in the article may be outdated. Please look at the time stamp on the story to see when it was last updated.
Hundreds of thousands of people marched from Pershing Square to City Hall and around downtown for Women's March Los Angeles Saturday, one day after the inauguration of Donald Trump as the 45th U.S. president.
Organizers tweeted that the event drew 750,000. Officials told the Los Angeles Times it appeared to be the largest gathering since the 2006 immigration march downtown, which drew about 500,000 people.
Demonstrations like the one in Los Angeles are taking place across the country and worldwide, with the largest occurring in Washington, D.C.
Organizers of the national event hope to "send a bold message to our new government on their first day in office, and to the world that women's rights are human rights," according to their mission statement.  "We stand together, recognizing that defending the most marginalized among us is defending all of us."
In Los Angeles, a diverse crowd of all ages gathered in solidarity, though each had his or her own reason for being there.
"It's amazing to have this moment with my daughter and with my close friends, to be able to march for something we truly believe in," attendee Carin Kaoepp said. "Because this isn't about politics as much as it's about human dignity and human rights."
Former Miss Universe Alicia Machado, who traded a series of high-profile barbs with President Trump during his campaign, turned out for the L.A. even as well.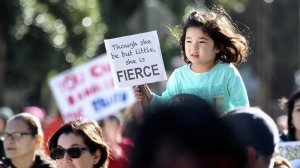 "He's the new president of the United States, and we need to respect that — and he needs to respect us, too," she told KTLA.
Ian, 9, who attended the local march, with his mother, said he wanted to stand up for women's rights.
"Over the last eight years, we've made so much progress and we can't afford to have a president that's going to erase all of that," he said.
Protesters gathered at Pershing Square about 9 a.m. and eventually dispersed as the designated Hill Street route became jammed packed, the Times reported. Aerial video from Sky5 showed demonstrators holding signs on freeway overpasses and crowded several streets.
"There is a sea of humanity everywhere," Los Angeles police Capt. Andrew Neiman told the Times.
Rebecca Waer, who said her mother was attending the corresponding march in San Diego, was shocked by the mass of people who had turned out.
"I've never been part of something this big. I probably never will again," she said. "It's just wall-to-wall people, it's wall-to-wall love."
Attendee Linda Rosenfeld said she felt it was important to remind citizens that the power lies with the people.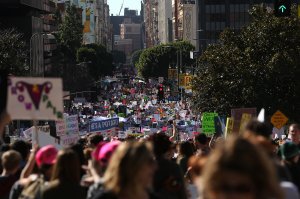 "Well, the majority of people did not vote for President Trump in office," she noted. "Any my biggest fear is the First Amendment. That is my biggest fear. I'm here because he is trying to bypass and limit our First Amendment rights."
Traffic in the downtown area has been impacted by the event, which is expected to end about 4 p.m., and several streets in the area are closed.
Metro officials tweeted about 9:30 a.m. that trains were "at capacity."  The Times reported that some rail stations were jammed and overwhelmed with passengers trying to get to the march.
Los Angeles Police officers have been out in full force, but no issues have been reported. As of 2 p.m., the agency reported no arrests had been made.
"The streets of downtown Los Angeles are emptying and you can be proud of your city," police said in a statement, noting attendees "exercised their First Amendment rights in a joyous and peaceful manner."
Several Los Angeles-area politicians, including Mayor Eric Garcetti, Rep. Judy Chu, L.A. County Supervisor Janice Hahn, L.A. City Councilwoman Nury Martinez and California Senate President Pro Tem Kevin de Leon, were among those who are expected to speak at a rally in front of City Hall.
Singers Miley Cyrus and Barbara Streisand, as well as actresses Marcia Gay Harden, Jane Fonda and Lily Tomlin, were also spotted at the rally.
Actress Kerry Washington delivered a passionate speech encouraging attendees to carry the positive action beyond Saturday's event.
"Being here is everything today. Being here is the beginning," she told the crowd. "But you must remember that tomorrow. We all have to continue to ask ourselves, 'What's next?' "
A full schedule of speakers can be found here.
Tell them Barbara. #womensmarchla pic.twitter.com/NMQkCJEHt2

— WMLA community (@womensmarchla) January 21, 2017
UCLA students participate in the Women's March in LA. pic.twitter.com/0CPvtnDDRo

— Francine Orr/LATimes (@francineorr) January 21, 2017
Ann Winchester, 86, explains why she is participating in the #womensmarchla Ann is in a wheelchair and will be helped by her daughter. pic.twitter.com/xMJ9axNt3C

— Francine Orr/LATimes (@francineorr) January 21, 2017
https://twitter.com/francineorr/status/822906080439083008