This is an archived article and the information in the article may be outdated. Please look at the time stamp on the story to see when it was last updated.
President Donald Trump announced Wednesday he plans to nominate Christopher A. Wray, the former assistant attorney general in charge of the Justice Department's criminal division, to be the next FBI director.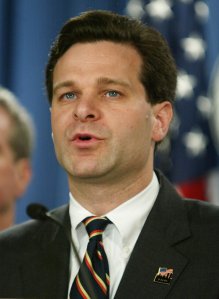 Trump's announcement comes one day before former FBI Director James Comey, whom Trump fired last month, is set to testify in a bombshell hearing before the Senate.
"I will be nominating Christopher A. Wray, a man of impeccable credentials, to be the new Director of the FBI. Details to follow," Trump tweeted Wednesday morning.
Wray headed up the Justice Department's criminal division from 2003 to 2005 under President George W. Bush and is currently a litigation partner at the DC-based law firm King & Spalding, where he chairs the firm's Special Matters and Government Investigations Practice Group.
He also represented New Jersey Gov. Chris Christie during the "Bridgegate" investigation into lane closures at the George Washington Bridge. Last week, Christie told the Bergen Record that Trump "would not be making a mistake" were he to tap Wray to lead the FBI.
The sudden announcement cuts into a bubbling news cycle about tensions between Trump and his attorney general, Jeff Sessions, who in recent weeks told Trump he would be willing to resign, a senior administration official confirmed to CNN on Tuesday.
The timing could also be aimed at blunting the impact of Comey's testimony before the Senate intelligence committee on Thursday. Comey is expected to refute Trump's claim that he told the President directly he was not under investigation and is also set to describe interactions with Trump that made him uneasy.
Sen. Mark Warner, the top Democrat on the Senate intelligence committee, was skeptical about the timing of Wray's nomination.
"I think it is more than a little bit curious that the President chose this morning as the time to announce his new FBI head," Warner said on CNN's "New Day." "There will be a time and place to review him. But it seems to me that this is an effort to try to take people's attention off what is going to be the main event, at least for the next two days: the leaders of our intelligence community and the FBI director."
Asked about Wray, Sen. Dianne Feinstein, the top Democrat on the judiciary committee, said he "may be fine" but added that she still needs to vet him.
Praised ex-acting AG Yates
Wray's career includes relationships with several prominent figures who have factored in Trump's young presidency. He was among the top Justice Department officials who planned to resign en masse with Comey and then-FBI Director Robert Mueller after top White House officials attempted in 2004 to reinstate a warrantless domestic surveillance program that the Justice Department had ruled illegal.
Mueller is currently the special counsel overseeing the probe into alleged ties between Trump's campaign and Russia.
Wray also signed a 2015 letter to the Senate judiciary committee from a number of partners from his law firm endorsing Sally Yates' nomination to become deputy attorney general. In the letter, the partners praise Yates for her "extraordinary legal skill and judgment."
Shortly after he became president, Trump fired Yates, then the acting attorney general, over her refusal to enforce his travel ban. At the time, the White House said Yates had "betrayed" the Justice Department.
Served during Bush administration
Wray was unanimously confirmed by the Senate in 2003 to lead the Justice Department's criminal division, where he oversaw several high-profile investigations, from the Enron scandal to the Justice Department's response to terrorism in the wake of 9/11.
He first joined the Justice Department as associate deputy attorney general after four years as assistant US attorney for the Northern District of Georgia, which covers the city of Atlanta.
He's also has represented a slew of Fortune 100 companies that have been the subject of state and federal investigations.
Wray is a Yale Law school graduate, where he served as executive editor of the Yale Law Journal.
Tumultuous weeks in wake of Comey firing
Wray was interviewed by Sessions and his deputy, Rod Rosenstein, two weeks ago, a Justice Department official told CNN.
The announcement caps off several tumultuous weeks for the White House since Trump suddenly fired Comey, prompting allegations that Trump was trying to impede the FBI's investigation into ties between his campaign associates and Russia and eventually leading Rosenstein to appoint Mueller as special counsel to oversee that investigation.
Rosenstein was only empowered to make that decision because Sessions in March recused himself from involvement in that investigation due to his role as a top Trump campaign adviser and prominent surrogate.
Wray's nomination ends a nearly month-long search to replace Comey. At separate points, former Connecticut Sen. Joseph Lieberman and Texas Republican Sen. John Cornyn appeared to be front-runners for the job, but both eventually withdrew from consideration.
Several additional candidates -- including former Assistant Attorney General Alice Fisher, Associate Judge Michael Garcia of the New York Court of Appeals, career FBI official Richard McFeely and South Carolina Republican Rep. Trey Gowdy -- also removed themselves as possible successors.
In a statement, Fisher, who succeeded Wray at the DOJ's criminal division, called him a "wonderful choice" to head the bureau, saying he already has strong relationships there and "cares deeply about the institution."
"He's an excellent lawyer who will provide even-keeled leadership," she added.
I will be nominating Christopher A. Wray, a man of impeccable credentials, to be the new Director of the FBI. Details to follow.

— Donald J. Trump (@realDonaldTrump) June 7, 2017