This is an archived article and the information in the article may be outdated. Please look at the time stamp on the story to see when it was last updated.
White House senior adviser Jared Kushner offered an explanation to congressional interns earlier this week as to why it was not possible for the Trump campaign to collude with Russia during the election: It was too disorganized for such a conspiracy.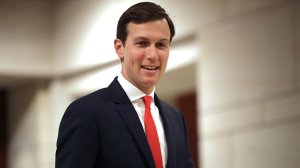 Speaking at an off-the-record hourlong meeting at the Capitol Visitor Center on Monday, President Donald Trump's son-in-law joked that the campaign couldn't even keep in touch with its own representatives, according to notes obtained and reported on by Foreign Policy.
"They thought we colluded, but we couldn't even collude with our local offices," Kushner said.
Asked later by an intern during a Q-and-A session about the investigation into the Trump campaign's potential ties to Russia as well as questions surrounding Kushner's own security clearance, Kushner said, "We don't know where it's going."
Blaming a disorganized presidential campaign has become a routine talking point for some Trump supporters regarding allegations that Trump associates colluded with Russian officials during the campaign.
Ex-Trump adviser Michael Caputo used a similar explanation during an interview with CNN in July.
"We were so busy just trying to keep up with the sun rising and setting on that campaign that I can't imagine anyone had the time nor the wherewithal to go out there and even do something like this," he said.
Caputo said that he "never once" discussed nor heard anyone else mention Russian involvement in the race to defeat Democratic presidential nominee Hillary Clinton.
He added, "The idea that somebody at that campaign would have had the forethought and the treachery … or the resources to go out and do this is laughable."
During the meeting with interns, Kushner additionally touched on the issue of brokering a peace deal in the Middle East — a task given to him by Trump.
In audio obtained by Wired, Kushner talked at length about how he's been approaching the role, saying it's a very "emotionally charged situation" that he's tried to read and to meet with many people about.
"Everyone finds an issue, that, 'You have to understand what they did then' and 'You have to understand that they did this.' But how does that help us get peace? Let's not focus on that. We don't want a history lesson. We've read enough books. Let's focus on how do you come up with a conclusion to the situation," he said.
Israeli Prime Minister Benjamin Netanyahu is a family friend whom Kushner has known since childhood.
Kushner said at the end of the recording that there may be no solution.
"So, what do we offer that's unique? I don't know … I'm sure everyone that's tried this has been unique in some ways, but again, we're trying to follow very logically. We're thinking about what the right end state is," he said.