This is an archived article and the information in the article may be outdated. Please look at the time stamp on the story to see when it was last updated.
President Donald Trump has ended plans for an Advisory Council on Infrastructure, according to a White House official, ending a panel that was created by an executive order the President signed in July.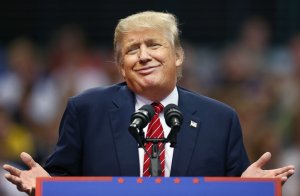 The move comes a day after Trump disbanded two other councils — the Manufacturing Council and the Strategy & Policy Forum — after business leaders, CEOs and union leaders began fleeing the groups in response to the President blaming "both sides" for violence in Charlottesville, Virginia. The councils were largely undermined by the departures but Trump tweeted that he was disbanding the panels rather than pressuring business leaders to stay.
Trump's infrastructure council was still being formed but the President decided to end the process, the official said. No reason was given.
"The President has announced the end of the Manufacturing Council and the Strategy & Policy Forum. In addition, the President's Advisory Council on Infrastructure, which was still being formed, will not move forward," the official said.
The ending of the infrastructure council was first reported by Bloomberg News.
Trump was initially defiant when some business leaders indicated they would leave the councils.
"For every CEO that drops out of the Manufacturing Council, I have many to take their place. Grandstanders should not have gone on," Trump tweeted after a few departures. "JOBS!"
When more business leaders left, Trump pulled the plug.
"Rather than putting pressure on the businesspeople of the Manufacturing Council & Strategy & Policy Forum, I am ending both," he wrote. "Thank you all!"
Trump established his infrastructure council by signing the "Presidential Executive Order Establishing a Presidential Advisory Council on Infrastructure" on July 19.
The council, per the order, would "study the scope and effectiveness of, and make findings and recommendations to the President regarding, federal government funding, support, and delivery of infrastructure projects in several sectors, including surface transportation, aviation, ports and waterways, water resources, renewable energy generation, electricity transmission, broadband, pipelines, and other such sectors as determined by the Council."
Trump promised during the campaign to pass a wholesale infrastructure reform bill as President, but that priority has largely fallen on the back-burner in the White House and on Capitol Hill, where attempts to pass health care and tax reform have been the primary focus.