This is an archived article and the information in the article may be outdated. Please look at the time stamp on the story to see when it was last updated.
President-elect Donald Trump sent a threat Tuesday to General Motors: Make the Chevrolet Cruze in the United States or face a heavy tax.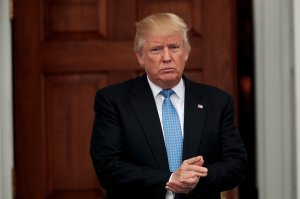 "General Motors is sending Mexican made model of Chevy Cruze to U.S. car dealers-tax free across border," Trump tweeted. "Make in U.S.A.or pay big border tax!"
GM, in a statement, stressed that it makes the sedan model of the Cruze at its plant in Lordstown, Ohio.
"GM builds the Chevrolet Cruze hatchback for global markets in Mexico, with a small number sold in the U.S.," the company said.
In December, Trump named GM's CEO, Mary Barra, to a panel on job creation.
GM is far from the only automotive manufacturer that produces across the border: Ford, Honda, Toyota and Volkswagen also make cars in Mexico and sell in the United States.
Trump has repeatedly told automakers that he intends to impose a 35% tax on cars they build in Mexico for the U.S. market. Trump could not impose a tariff on a company unilaterally.
Before the election, he directed similar warnings toward Ford, which employs 8,800 people in Mexico, or about one-tenth of the jobs it has stateside.
Large tariffs would mean that Americans would pay more. When President Ronald Reagan put a quota on the number of cars Japan could ship to the United States, American carmakers hiked prices by $1,000 on average, knowing they would face less foreign competition.
Any tariff would also not likely be limited to American automakers like GM or Ford. If that were the case, those cars would be more expensive than others who also produce in Mexico and sell here, like Honda, Toyota and Volkswagen.
Ford and GM would then be left open to losing in their home market to foreign competitors — a consequence experts say probably wouldn't bode well for Trump.