This is an archived article and the information in the article may be outdated. Please look at the time stamp on the story to see when it was last updated.
Donald Trump sought to regain control of his campaign narrative Wednesday by turning attention away from the turmoil roiling his operation and onto his likely general election opponent Hillary Clinton.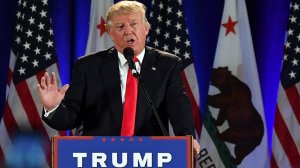 Clinton is "a world-class liar," Trump said during a speech in New York. "Just look at her pathetic email and server statements … or her phony landing in Bosnia, where she said she was under attack but the attack turned out to be young girls handing her flowers."
The speech comes as Trump tries to get back on offense after weeks of self-inflicted wounds that included racially charged criticism of a judge overseeing a case related to Trump University and a controversial response to the Orlando terror attack. Trump has come under withering criticism from Clinton and prominent Democratic surrogates including President Barack Obama, Vice President Joe Biden and Sen. Elizabeth Warren and has sometimes struggled to counter the assault.
Clinton gave a scorching speech Tuesday where she repeatedly criticized Trump's business competence, which is at the heart of his public persona.
"A few days ago, he said, 'I'm going to do for the country what I did for my business,'" Clinton said during her speech in the crucial battleground state of Ohio. "So let's take a look at what he has done. He's written a lot of books about business — they all seem to end at Chapter 11."
Trump's speech aimed to dissect Clinton's personality and positions on issues ranging from trade and foreign policy to paint the former secretary of state as someone who is out of touch with workers and has enriched herself "at America's expense."
Clinton, he said, "may be the most corrupt person ever to seek the presidency of the United States."
Trump said he is seeking the White House to "end the unfairness and to put you, the American worker, first. It's about time."
He accused Clinton of supporting the Trans-Pacific Partnership, which she has said she opposes, and argued she would enact free trad policies as president that would upend the U.S. economy.
"We will lose jobs, we will lose employment, we will lose taxes," Trump said. "We will lose everything. We will lose our country."
Trump also lambasted Clinton on foreign policy, accusing her of "almost single-handedly destabilizing the entire Middle East" during her time as secretary of state.
Once again, Trump falsely claimed to have argued against the war in Iraq before the U.S. invaded the country. Trump was publicly supportive of the war a month before Congress voted to authorize the use of military force and praised the war's direction in the early months of the campaign.
And he said Clinton may be disqualified from the presidency on the basis that the emails on her private email server may have been hacked by foreign enemies — though there's no evidence of such a breach.
"While we may not know what is in those deleted emails, our enemies probably know every single one of them," Trump said of the emails Clinton deleted and did not hand over to the State Department.
After weeks of being on the receiving end of Clinton's rhetoric, Trump sought to turn her words against her. Clinton frequently tells audiences Trump lacks the "temperament" for the presidency — a criticism Trump threw back at her.
"Hillary Clinton wants to be President," he said. "But she doesn't have the temperament, or, as Bernie Sanders' said, the judgement, to be president. She believes she is entitled to the office."