This is an archived article and the information in the article may be outdated. Please look at the time stamp on the story to see when it was last updated.
Donald Trump's name no longer appears on the Hollywood Walk of Fame after his star was defaced in the early morning Wednesday.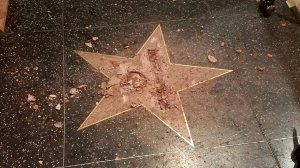 The vandalism was reported around 6 a.m., according to Officer Norma Eisenman with the Los Angeles Police Department, but the damage was already done by the time officers arrived on scene.
The real estate mogul and Republican presidential candidate received the star, located at 6801 Hollywood Blvd. near the Dolby Theater, in 2007 for his work on NBC reality show "The Apprentice."
Jamie Moreno, who works as a security guard nearby, said a man smashed it with a sledgehammer, stating it was revenge for the women Trump has insulted. Video footage appeared to show a man attacking the slab with a pickaxe.
Street performer Gregory Howie watched the destruction, sparks flying as chunks of pink stone, cement and brass were chipped away. Howie said the man said he was tired of Trump sexually abusing women and getting away with it.
Carlton Enoch said the man was confident and polite as he vandalized the star. He described him as being "well-dressed" and "friendly."
A pick, sledgehammer and construction vest were recovered from the location, LAPD Officer Sal Ramirez said, but police have not made an arrest.
Officials did not provide a suspect description but said the incident is under investigation.
A man soon came forward to claim responsibility, identifying himself as James Otis, an heir to the Otis family's elevator fortune. In an interview with CNN Wednesday morning, he said he did it to help the 11 women who have accused Trump of sexually assaulting them, and other victims who he said could come forward in the future.
"I had four or five family members sexually assaulted, and I'm terribly upset that we have a presidential nominee who's become sort of a poster child of sexual violence," Otis said.
In a statement, the Hollywood Chamber of Commerce — which oversees the Walk of Fame — said the star would be repaired immediately. The organization intends to prosecute the incident to the full extent of the law, it added.
"When people are unhappy with one of our honorees, we would hope that they would project their anger in more positive ways than to vandalize a California state landmark," the agency's president, Leron Gubler, said. "Our democracy is based on respect for the law.  People can make a difference by voting and not destroying public property."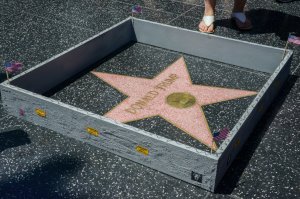 In late July, a six-inch wall was erected around the candidate's star in response to his controversial views on immigration and calls for a border wall.
Otis said he plans to sell parts of Trump's star and donate the proceeds "to the women who have been sexually assaulted by Mr. Trump."
"I know I can sell it. I think I can get over $1 million for this star, to be distributed to these women and many others that will be going forward," he said.
Otis noted he previously auctioned off personal items belonging to Mahatma Gandhi, saying he "donated all the money to countries that were fighting dictatorships with non-violent strategies."
That 2009 auction of Ghandi's possessions attracted news coverage at the time, including by CNN, and Gandhi's items were sold for $1.8 million.
https://www.instagram.com/p/BMB4r3lAA89/
KTLA's Cindy Von Quednow contributed to this story.