This is an archived article and the information in the article may be outdated. Please look at the time stamp on the story to see when it was last updated.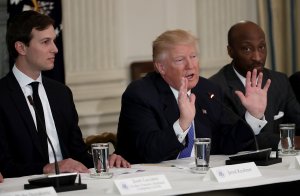 President Trump's initial failure to condemn white supremacy on Saturday was too much for Kenneth Frazier.
Early Monday morning, the head of the pharma giant Merck — and one of America's most prominent black CEOs — abruptly quit Trump's manufacturing council.
Frazier's message was clear: "America's leaders must honor our fundamental values by clearly rejecting expressions of hatred, bigotry and group supremacy."
— Merck (@Merck) August 14, 2017
Trump quickly responded by bashing Frazier. He tweeted that the Merck CEO "will have more time to LOWER RIPOFF DRUG PRICES!"
Now that Ken Frazier of Merck Pharma has resigned from President's Manufacturing Council,he will have more time to LOWER RIPOFF DRUG PRICES!

— Donald J. Trump (@realDonaldTrump) August 14, 2017
Hours later, Trump denounced the KKK, neo-Nazis and White supremacists as "repugnant."
Throughout the day, other CEOs on the manufacturing council condemned racism after the weekend's white nationalist rally in Charlottesville, Virginia. But by Monday night, only one other had joined Frazier in leaving.
Under Armour's Kevin Plank had earlier tweeted a strong rejection of racism. Then, just after 8 p.m. ET, his company released a statement saying that he would step down.
"Under Armour engages in innovation and sports, not politics," Plank said.
I love our country & company. I am stepping down from the council to focus on inspiring & uniting through power of sport. – CEO Kevin Plank pic.twitter.com/8YvndJMjj1

— Under Armour (@UnderArmour) August 15, 2017
CNNMoney asked the approximately two dozen executives whether they would stay on the council. Several executives denounced hate and bigotry, others declined to comment, and some did not respond at all.
But at least seven companies or executives said that they would remain with the council, which was formed in January to advise Trump on manufacturing growth — a key focus of the president's campaign.
General Electric said the company has "no tolerance for hate, bigotry or racism." But it added that chairman Jeff Immelt would stay on the council because it was important for GE to "participate in the discussion on how to drive growth and productivity in the U.S."
Representatives for at least five other companies — Dow Chemical, Whirlpool, Campbell Soup, International Paper and Nucor — echoed similar sentiments.
They all released statements that condemned racism or welcomed tolerance. But they also said they'd stay on the council so they could advise the government on ways to strengthen manufacturing.
Dell said there was "no change" in how it is "engaging with the Trump administration" on policy issues that affect the company.
Another CEO, Intel's Brian Krzanich, railed against hate speech and white supremacy in a tweet. But he did not say anything about his role on the council.
Frazier and Plank are not the first CEOs to drop out of a Trump advisory role. At first, Tesla and SpaceX CEO Elon Musk defended his roles on Trump's manufacturing and economic advisory councils.
While Musk publicly and repeatedly rebuked several Trump policies, including the travel ban, he said he believed having a seat at the table was "doing good." The clean energy advocate spoke publicly about wanting to advise Trump on climate issues, even though the president downplayed the problem.
Musk eventually gave up. After Trump pulled out of the Paris climate agreement in June, he left both councils.
"Leaving Paris is not good for America or the world," Musk tweeted at the time. He had earlier said that he had "done all I can to advise directly to POTUS, through others in WH & via councils."
Disney's Bob Iger, another member of the economic advisory council, also quit after the Paris decision.
And at least one more departure from the manufacturing group may be in the works.
The AFL-CIO, which has two members on the council, said Monday that it denounces "bigoted domestic terrorists" and called on Trump to follow. Its president, Richard Trumka, made similar comments online Sunday.
By Monday afternoon the AFL-CIO said it was "assessing" its role in the manufacturing group — which it said "has yet to hold any real meeting."
"While the AFL-CIO will remain a powerful voice for the freedoms of working people, there are real questions about the effectiveness of this council to deliver real policy that lifts working families," the organization said.
In other words: Maybe this just isn't worth it.