This is an archived article and the information in the article may be outdated. Please look at the time stamp on the story to see when it was last updated.
While President Trump wavered Thursday on whether he will stop shielding from deportation people who were brought to the U.S. illegally as children, his aides have identified at least two ways to quietly end their protections without his fingerprints.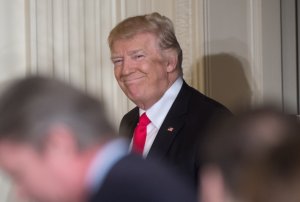 An executive order has already been drafted to end the program, Deferred Action for Childhood Arrivals, that allows hundreds of thousands of the immigrants to live and work openly in the U.S. Trump used that legal mechanism to great fanfare to expand deportation authority and restrict entry to the U.S.
But with the president showing less willingness to sign such an order, advisors have begun to explore alternatives. Their hunt suggests that the White House is hesitant to publicly target a well-organized group of immigrants who have prominent public backing, including from President Obama, and to whom Trump has shown sympathy.
"DACA is a very, very difficult subject for me," Trump conceded during a rambling East Room news conference Thursday, promising to address the issue "with heart.… It's one of the most difficult subjects I have because you have these incredible kids."
Click here to read the full story on LATimes.com.
Donald Trump on DACA: "We're going to show great heart." pic.twitter.com/3kdQYVyWrH

— Steve Saldivar (@stevesaldivar) February 16, 2017
Trump on DACA https://t.co/9HRoHLzorq pic.twitter.com/JbZl6t8cJl

— Josh Blackman (@JoshMBlackman) February 16, 2017