This is an archived article and the information in the article may be outdated. Please look at the time stamp on the story to see when it was last updated.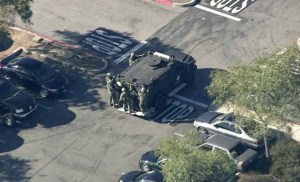 POMONA, Calif. (KTLA) — A high school in Pomona was put on lockdown Friday morning after receiving two threatening phone calls.
Police said the calls were made around 9 a.m. to the principal at Diamond Ranch High school, located at 100 Diamond Ranch road.
An L.A. County Sheriff's Department SWAT team was brought in by helicopter.
Authorities said the lockdown was a precautionary measure and that no evacuations had been ordered.
Dozens of concerned parents showed up outside the school.
"My daughter called me and said, 'Mom, they've locked down the school. They're not letting anybody out,'" one mother told KTLA.
"She said that somebody had told them that it was a bomb threat and a gun threat, and I got a phone call from somebody else also telling me the same thing," she said.
"With all the stuff that's going on, you just never know," she added. "It's just terrifying to know that your kids are on lockdown and you don't really know what's going on."
One student who was late to school heard about the lockdown as he was arriving. He said he had been texting with classmates who were inside the school.
"At least my class, they're barricaded in with chairs, and I think the lights are turned off too," he said. "We had finals today, but they're not doing those anymore."
Friday is the last day of classes at Diamond Ranch High School before winter break.
Deputies confirmed just after 1 p.m. that the lockdown had been lifted.