This is an archived article and the information in the article may be outdated. Please look at the time stamp on the story to see when it was last updated.
EL MONTE, Calif. (KTLA) — As many as 1,000 students who attended summer school at Arroyo High School last year may have been exposed to tuberculosis.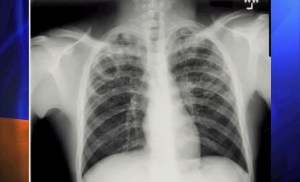 The L.A. County Department of Public Health notified the El Monte Union High School District this week about the possible exposure.
Public health officials identified the tuberculosis case in the fall of 2012.
The person may have exposed others as far back as July 2012 while in summer school at Arroyo, health officials said.
They said they were contacting parents directly for screening and treatment, as needed.
Tuberculosis is caused by a bacterium that usually affects the lungs. If left untreated, it can be fatal.
It is spread through the air from one person to another when an infected person coughs, sneezes, speaks, laughs or sings.
People nearby may breathe in the bacteria and become infected.
Symptoms include a persistent cough, chest pain, coughing up blood, weakness or fatigue, chills, weight loss, no appetite, fever and sweating at night.
Earlier this month, 375 students and 20 faculty and staff at Cal Poly Pomona were notified that they may have been exposed to tuberculosis by an infected student.
And last month, a letter was sent to parents at Whittier High School notifying them that someone associated with the school had tested positive for TB.
As a precaution, the school offered free testing to students who may have come into contact with the infected person.