This is an archived article and the information in the article may be outdated. Please look at the time stamp on the story to see when it was last updated.
WASHINGTON — The State Department issued a travel alert Friday warning that al Qaeda may launch attacks in the Middle East, North Africa and beyond.
"Current information suggests that al Qaeda and affiliated organizations continue to plan terrorist attacks both in the region and beyond, and that they may focus efforts to conduct attacks in the period between now and the end of August," said the alert.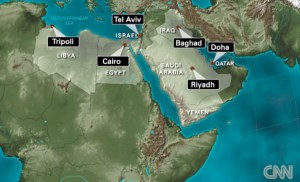 It warned that "terrorists may elect to use a variety of means and weapons and target both official and private interests."
"The threat appears to be much worse than it has (been) in a long time," a senior national security official in Yemen told CNN. The government of Yemen is "on high alert against possible attacks in the days to come," according to the official.
According to three sources, the United States has information that al Qaeda in the Arabian Peninsula members are in the final stages of planning for an unspecified attack, CNN reports.
In response to the potential threat the State Department decided to close 21 embassies and consulates on Sunday, normally the start of the work week in the countries affected.
The timing coincides with the approach of both the end of Ramadan and the one year anniversary of the consulate attack in Benghazi.
The 17 affected U.S. embassies are in Afghanistan, Algeria, Bahrain, Bangladesh, Djibouti, Egypt, Iraq, Jordan, Kuwait, Libya, Mauritania, Oman, Qatar, Saudi Arabia, the United Arab Emirates, Sudan and Yemen. The U.S. embassy in Israel will be closed as normal Sunday.
Consulates in Iraq, Saudi Arabia and the United Arab Emirates were also being shut down for the day.
The shutdowns could extend beyond Sunday.
For information on the status of a specific embassy, visit USEmbassy.gov.