This is an archived article and the information in the article may be outdated. Please look at the time stamp on the story to see when it was last updated.
WASHINGTON (KTLA) – President Obama spoke to the nation Saturday from the White House on the worsening situation in Syria.
Striking a defiant note, he insisted the U.S. was prepared to take action against the Syrian government.
"Ten days ago, the world watched in horror as men, women and children were massacred in Syria in the worst chemical weapons attack of the 21st century," the President said.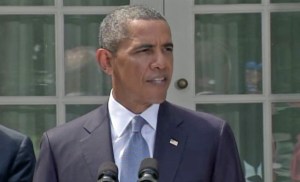 "In a world with many dangers, this menace must be confronted.
"Now after careful deliberation, I have decided that the United States should take military action against Syrian regime targets," Mr. Obama added.
With Vice President Joe Biden by his side, the President went on to describe the alleged chemical weapons attack as "an assault on human dignity."
Then he said the U.S. was ready to take action.
"Our military has positioned assets in the region. The chairman of the Joint Chiefs has informed me that we are prepared to strike whenever we choose," the President said.
Mr. Obama also said he would seek authorization from Congress before launching a military strike.
"Over the last several days, we have heard from members of Congress who want their voices to be heard. I absolutely agree.
"This morning, I spoke with all four congressional leaders, and they've agreed to schedule a debate and then a vote as soon as Congress comes back into session," the President said.
You can read the full transcript of his speech here.