This is an archived article and the information in the article may be outdated. Please look at the time stamp on the story to see when it was last updated.
LONDON — He may be the future king of Britain, but for now Prince George of Cambridge is just a little "rascal" according to his proud father Prince William.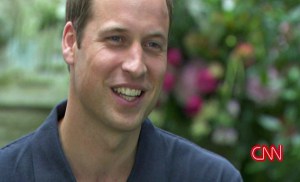 Sitting in his garden at Kensington Palace on a warm summer day, the Duke of Cambridge, second in line to the British throne, told CNN that George is already quite a character in his first official interview since the birth in London on July 22.
"He's a little bit of a rascal, I'll put it that way," William told CNN's Max Foster. "He either reminds me of my brother or me when I was younger, I'm not sure, but he's doing very well at the moment."
"He's growing quite quickly actually. But he's a little fighter — he wriggles around quite a lot and he doesn't want to go to sleep that much."
Click here to read the full story at CNN.com.
[protected-iframe id="790d08764ab162ea02bd9a512eda743e-41641936-49434793″ info="http://i.cdn.turner.com/cnn/.element/apps/cvp/3.0/swf/cnn_embed_2x_container.swf?site=cnn&profile=desktop&context=embed&videoId=world/2013/08/19/prince-william-interview-george-catherine.cnn&contentId=world/2013/08/19/prince-william-interview-george-catherine.cnn" width="416″ height="234″]