This is an archived article and the information in the article may be outdated. Please look at the time stamp on the story to see when it was last updated.
A Christian high school in Simi Valley decided to forgive its principal after he altered the grade of a student and deleted test scores.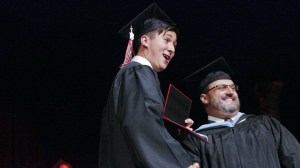 John Hynes, principal of Grace Brethren High School, sent an email to students' parents Wednesday admitting he wrongfully changed a grade, the Ventura County Star reported.
Grace Brethren officials said he will not be fired because he was upfront about his indiscretion and asked for forgiveness, the newspaper reported.
"It was a one-time event. It'll never happen again," Hynes said to the Star on Wednesday. "I made a human mistake. Thank God the school didn't fire me like another organization would have."
Grace Brethren Spanish teacher Anke Saldarriaga claimed Hynes changed more than one grade, telling the Star that he altered the final scores of four students, one of whom was Hynes' own daughter.
Saldarriaga, who told the newspaper she has since resigned from the school for unrelated reasons, said that all four students were members of the school's swim and dive team, which Hynes coaches.
Saldarriaga also said that Hynes' alterations boosted some students' letter grades in her class, giving his daughter a B instead of a C and a second student a C over a D.
"Schools stand for honesty and integrity, and this is not it," the teacher said to the Star.
An investigation conducted by the school into her allegations, however, found a problem with only one student's grade, which has since been returned to the original grade.
"There was an academic breach of integrity with our principal. There was a changing of a grade for one student in one class," Pastor Jordan Bakker of Grace Brethren Church – the school's associated ministry – said to the Star.
Grace Brethren officials did not disclose how Hynes will be punished, telling reporters their disciplinary process is still in progress.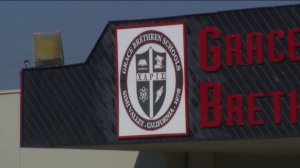 Hynes also admitted to deleting the Spanish exam grades of his daughter and three other students, and later of the entire class. He claimed that the test broke school policy as it was weighted too heavily in their overall grade, the Star said.
After investigating the score-deleting incident, school officials supported Hynes' intervening and concluded that he was not at fault.
"We believe Hynes can continue to lead the campus academically and spiritually," Bakker said to the Star. "We will stand with him 100 percent."
Hynes has worked at Grace Brethren since 2005, according to the school's website.