This is an archived article and the information in the article may be outdated. Please look at the time stamp on the story to see when it was last updated.
WESTWOOD, Calif. (KTLA) — Three people were arrested on Thursday in Westwood, where a small group of protesters jogged through the streets in support of Trayvon Martin.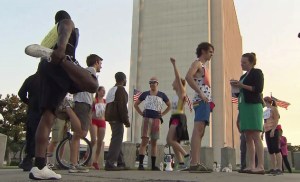 The event began as a peaceful run at the Federal Building on Wilshire Boulevard.
The small group, unhappy with the George Zimmerman verdict, chanted as they ran, voicing their distrust of the legal system.
"Black people ran through the streets on the news and it was called a riot," one of the demonstrators said.
"Here I guess we're going to have white people running through the streets, and we'll see if they call that a riot as well," he said.
Once protesters began blocking traffic on Westwood Boulevard, officers were forced to take three people into custody, police said.
More protests were expected across the country on Saturday.
The Reverend Al Sharpton will lead a national "Justice for Trayvon" day, with rallies expected in 100 cities nationwide.