This is an archived article and the information in the article may be outdated. Please look at the time stamp on the story to see when it was last updated.
BEVERLY HILLS, Calif. (KTLA) — A protest over the George Zimmerman verdict in Beverly Hills snarled traffic on Los Angeles' Westside on Wednesday.
The demonstrators walked Wilshire Boulevard into the heart of Beverly Hills, taking their message to a new audience.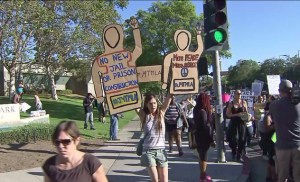 They even held up signs and chanted outside restaurants on the elite Rodeo Drive.
"It's a society thing. Trayvon Martin was not killed in his neighborhood," demonstrator Camille Miller said.
"We don't need to really be protesting all the time in our neighborhoods, in our community," she said. "Our community is aware, our community is affected.
"We need to sometimes make awareness in other communities and have them bring it home to their dinner table when they come home as well," Miller said.
Some compared the Florida neighborhood where Martin was killed to Beverly Hills — upscale and white.
Followed by Beverly Hills police, the demonstration lasted for more than three hours.
"I want them to get that this is a divided nation," demonstrator Claire Gentry, who brought her daughter and grandchildren, said.
"Half of our nation don't understand our grief and our dismay," she said.
Police said there were no problems with the protesters, who remained peaceful.
At the end of the day, the tireless group said they felt satisfied and a sense of solidarity with the Beverly Hills community.
"We got some of the neighbors out here, it was really nice," Miller said. "Some of the neighbors were saying, you know this does affect everyone," she said.