This is an archived article and the information in the article may be outdated. Please look at the time stamp on the story to see when it was last updated.
Glendale police were seeking the public's help this week in locating a woman they suspect was involved in an identity theft case.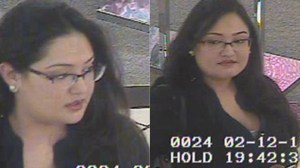 The woman allegedly used another person's identity and credit card information to make "high dollar purchases" and open credit accounts at multiple stores in Glendale and Burbank last month, according to a news release from the Glendale Police Department.
Surveillance photos of the woman they were looking for were released by police on Monday.
She was described as being between the ages of 26 and 33, standing 5 feet 4 inches tall, with a medium-to-heavy build, and having long black hair, the release stated.
Police described the vehicle she was driving as a mid-size, dark-colored 2000 Honda Accord EX.
Anyone with information about the case was asked to contact Glendale police Detective Peter Robinson at 818-548-3101.