This is an archived article and the information in the article may be outdated. Please look at the time stamp on the story to see when it was last updated.
Police are asking for the public's help in locating the driver responsible for a West Los Angeles hit-and-run crash that critically injured an 84-year-old woman earlier this month.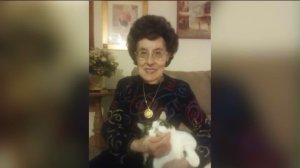 Police said Francesca Cacciapuoti was struck by a black compact car and critically injured while walking to the grocery store on May 9 around 9:10 p.m. in the 11600 block of National Boulevard, the Los Angeles Police Department reported.
The car was driving north on Barrington Avenue when it collided with Cacciapuoti as she was crossing National Boulevard.
The driver fled the scene without rendering aid to the victim, police said. Cacciapuoti was taken to a local hospital where she remains in critical condition.
After the crash Cacciapuoti's family told KTLA she suffered a shattered hip, femur and elbow, multiple broken ribs and multiples contusions. She also suffered a brain injury described as a hemorrhage.
A reward of up to $50,000 is available to anyone who provides information leading to the hit-and-run driver's identification, apprehension and conviction.
The investigation is ongoing.
Anyone with information is asked to call West Traffic Division Detectives at 213-473-0234.