This is an archived article and the information in the article may be outdated. Please look at the time stamp on the story to see when it was last updated.
LOS ANGELES (KTLA) — The Los Angeles Police Department asked the public for help Tuesday in finding whoever shot and killed a man as he sat in his car trying to look up directions.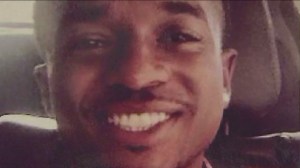 The incident happened July 12 in the area of Crenshaw and Venice boulevards around 12:45 p.m., according to a LAPD news release.
The victim, identified as Dejon Ward, 21, of Victorville, parked his car at a 7-Eleven to check a map for directions when he was approached by two people.
"As he sat in his vehicle looking at the directions, he was approached by a suspect who asked him 'Where are you from?' Before Dejon could even answer, the suspect pulled a gun and shot him," LAPD Capt. Lillian Carranza said.
After the fatal shooting, the two fled the scene in a silver Nissan Armada SUV, according to police.
They were considered to be armed and dangerous.
"He did not deserve to die. He was a victim of senseless violence and we are petitioning the community that anyone who has information to help solve this case to please come forward," Dejon's cousin Caleb Campbell said.
Anyone with information was asked to contact homicide detectives at 213-382-9370.