This is an archived article and the information in the article may be outdated. Please look at the time stamp on the story to see when it was last updated.
A driver died early Wednesday after fleeing from police and crashing into a house in Fullerton, authorities said.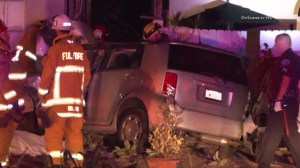 Officers had attempted to contact the man after he was reportedly dropped off by a taxi driver in the downtown area and entered a silver vehicle, according to a statement released by the Fullerton Police Department. The taxi driver called police at 2:06 a.m. and alleged that he had been assaulted by the man.
The man fled westbound at a high rate of speed on Amerige Avenue, Fullerton police said. When he reached the intersection of Amerige Avenue and Roosevelt, he collided with a tree, a parked car and then a house.
The driver was pronounced dead at the scene. His identity was not immediately released, pending the coroner's notification of family.
No other injuries were reported, although residents of the house were home at the time of the crash, Fullerton police Sgt. Jeff Stewart said.
Authorities said alcohol may have been a factor in the incident, based on statements made by the taxi driver.