This is an archived article and the information in the article may be outdated. Please look at the time stamp on the story to see when it was last updated.
WASHINGTON — The odds of the Obama administration winning congressional support for military action against Syria were unclear Sunday as lawmakers got a classified briefing on the administration's case against the Syrian government.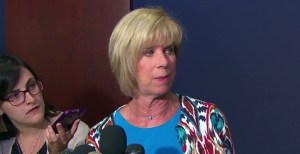 Roughly 100 members of the House and Senate came back from recess for the briefing with top administration officials, according to those who attended the meeting. Many of those lawmakers – Republicans and Democrats alike – left the session skeptical and with major concerns about the language of the president's proposal.
President Barack Obama announced Saturday that he wants the United States to take limited action against Syria's government, which Washington says has used chemical weapons on its own civilians. But Obama said he will first seek authorization from Congress when the House and Senate officially return on September 9.
Shadows of the past loom in present
Rep. Janice Hahn of California, who took a red-eye flight from Los Angeles Saturday night to arrive in time for the Sunday briefing, said "there was a lot of concern in the room" about the objectives of launching a strike.
Click here to read the full story on CNN.com.