This is an archived article and the information in the article may be outdated. Please look at the time stamp on the story to see when it was last updated.
Radio legend Casey Kasem died Father's Day morning surrounded by friends and family, his daughter tweeted Sunday.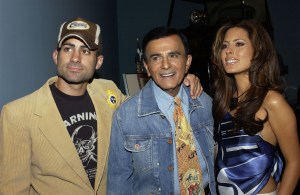 "Early this Father's Day morning, our dad Casey Kasem passed away surrounded by family and friends. Even though we know he is in a better place and no longer suffering, we are heartbroken. Thank you for all your love, support and prayers. The world will miss Casey Kasem, an incredible talent and humanitarian; we will miss our Dad.
With love, Kerri, Mike and Julie."
The iconic radio voice was diagnosed with Parkinson's disease in 2007 and later suffered from dementia and sepsis.
After Casey Kasem's Parkinson's diagnosis he signed a document giving his oldest children authority over his medical care, CNN reported.
When his health began to deteriorate six years later a battle between the Kasem children and his wife of 33 years ensued over his medical care.
A judge gave Kerri Kasem authority on Wednesday to have doctors end his infusions of water, food and medicine.
Kasem's doctor concluded that continuing the artificial nutrition and hydration would only "at best prolong the dying process for him and will certainly add suffering to an already terribly uncomfortable dying process," said Kerri Kasem's lawyer, Troy Martin.
Casey Kasem counted down the "American Top 40″ for nearly four decades and was later the voice of Shaggy on Scooby-Doo.
After his death was announced many friends and fans began sharing their memories of the disc jockey.
Casey Kasem's friend and a fellow radio host Art Laboe remembered Casey and a happy person who always smiled and had "a sparkle in his eye."
"It leaves a big blank space. The world will miss Casey Kasem and his great voice," Laboe told KTLA.
Early this Father's Day morning, our dad Casey Kasem passed away surrounded by family and friends. Even (cont) http://t.co/G4mxcmGWch

— Kerri Kasem (@KerriKasem) June 15, 2014
I wish I could respond 2 each and every 1 of U personally. Please know how much UR support and kind words mean to me in this difficult time.

— Kerri Kasem (@KerriKasem) June 14, 2014