This is an archived article and the information in the article may be outdated. Please look at the time stamp on the story to see when it was last updated.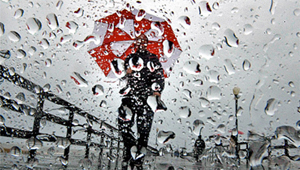 LOS ANGELES (KTLA) — A storm is expected to bring rain and snow to Southern California beginning Wednesday, possibly snarling the afternoon commute.
Between a quarter and a half-inch of rain were expected for the coast and valleys, while the mountains could get up to an inch, the National Weather Service said.
A winter weather advisory has been issued from 4 p.m. Wednesday through 4 p.m Thursday for the mountains of Los Angeles, Ventura, San Bernardino and Riverside counties.
By Thursday, snow is expected to blanket the mountains as low as 3,500 feet, possibly creating hazardous conditions through the Grapevine.
Elevations above 5,000 feet are expected to get 3 to 5 inches of snow. Between 1 and 4 inches are expected between 4,000 and 5,000 feet.
Public access will be closed to two mountain roads starting Wednesday night in anticipation of heavy snowfall, according the L.A. County Department of Public Works.
Angeles Forest Hwy will be closed from Upper Big Tujunga Canyon Rd. to Aliso Canyon Rd. Upper Big Tujunga will be shut from Angeles Forest Hwy to SR-2.
The closures will remain in effect until the storm system has passed and the roads have been inspected, officials said.
Temperatures in the region will be below normal — in the high 50s to mid-60s — though the weekend. Forecasters say rain could linger through next Tuesday.