This is an archived article and the information in the article may be outdated. Please look at the time stamp on the story to see when it was last updated.
Rain expected later this week could hamper the cleanup process for crews trying to remove tons of debris and mud from Montecito and surrounding areas, after mud flows killed 20 people and destroyed more than 100 homes last week.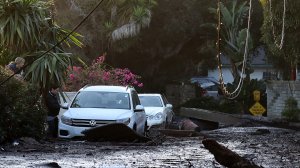 The area is far from recovered from last week's deluge. Officials say three people are still missing, about 1,400 are without power, and a stretch of the 101 Freeway remains closedbetween Santa Barbara and Carpinteria, even after crews have spent a week trying to clear the muddy, debris-filled river created by the deadly flows.
The cold storm should arrive Thursday evening and drop between a tenth and two-tenths of an inch of rain over the Thomas fire burn and debris flow area through Friday morning, said Weather Service hydrologist Jayme Laber.
While that's not enough rain to create slides in the area under normal conditions, officials are proceeding with caution and warning evacuees to stay away, unsure of what more precipitation could do to a landscape that has already been massively altered in the last months.
Read the full story on LATimes.com.