This is an archived article and the information in the article may be outdated. Please look at the time stamp on the story to see when it was last updated.
The first storm of the fall season brought showers, cooler temperatures and gusty winds to much of Southern California on Wednesday.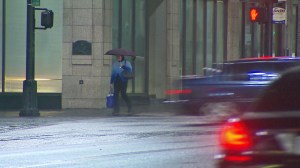 The gloomy weather made the region feel like fall for the first time since the season changed Sept. 22.
Scattered light-to-moderate showers were expected to continue over coastal and inland areas through late morning, the National Weather Service reported in its short-term forecast.
Rainfall was expected to be heavier and last longer in Los Angeles County than in the rest of the Southern California region, according to the weather service.
The first rain prompted warnings about road conditions, with the Los Angeles County Sheriff's Department asking drivers to slow down.
"The first rain of the season causes the oils on the road to come to the surface and cars to slide and crash. Please use caution," the sheriff's department stated in a news release.
The environmental group Los Angeles Waterkeeper warned that the "first flush" rain could bring high pollution levels to Santa Monica and San Pedro bays as contaminants on city streets are funneled into the ocean via storm drains.
The storm was expected to bring a dusting of snow to area mountains, with snow levels was likely to drop to 5,500 feet and as low as 4,500 feet in some areas. Accumulations of between 1 and 3 inches could be seen in higher elevations, the weather service stated.
Mountain High ski resort in Wrightwood sent out a notice to news media Wednesday morning that temperatures were in the low 30s and snow was expected by 8 p.m.
Wind gusts of 40 mph to 50 mph were predicted for Antelope Valley.
Highs were expected to be in the mid-60s for the coast and valleys and in the 40s and 50s in the mountains.
Skies were expected to clear and temperatures to rise on Thursday as the cold storm system moves out of the region.