This is an archived article and the information in the article may be outdated. Please look at the time stamp on the story to see when it was last updated.
WESTWOOD, Calif. (KTLA) — Drivers on Los Angeles' Westside were being warned to brace for more delays due to another closure of a 405 Freeway ramp.
The so-called "Ramp Jam" closure began on Thursday, and affects the eastbound Wilshire Boulevard on-ramp to the northbound 405.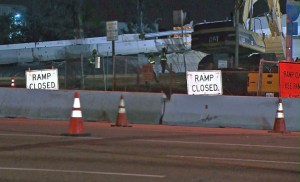 It was expected to be shut down for at least three months while construction crews tear down the existing on-ramp and build a longer one.
The work will mark the last demolition of an I-405/Wilshire connecting ramp, according to Metro officials.
The new ramp will increase from 824 feet to 3,129 feet in length, resulting in 280 percent more vehicle capacity, officials said.
The construction was part of the I-405 Sepulveda Pass Improvements Project.
It will eventually add a 10-mile carpool lane on the northbound 405 between the 101 and 10 freeways, among other improvements.
For a list of recommended detours during the eastbound Wilshire Boulevard on-ramp closure, click here.