This is an archived article and the information in the article may be outdated. Please look at the time stamp on the story to see when it was last updated.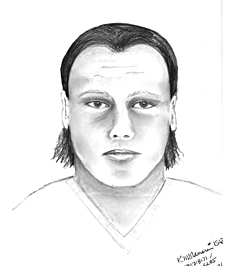 Investigators announced Thursday they have linked DNA evidence from the slaying of a 23-year-old woman in February to a kidnapping and rape case in 2003.
The body of Sylvia Marie Flores, of Perris, was found in an orange grove off Almond Avenue in Redlands on Feb. 26.
Sharon Polich said she was out for a walk after dinner when she saw something strange near an orange tree.
"I thought it was a homeless person sleeping out there. But then I got closer and it wasn't moving," Polich told KTLA back in February.
"I didn't have a cell phone. I had to go back to the house to get the cellphone and call 911," she said.
Surveillance video showed Flores at a Jack in the Box in the area of D and Fifth streets in San Bernardino around 8:45 a.m. the day before her death.
DNA evidence recovered from Flores' remains was recently matched to that of an unknown person involved in a kidnap, rape and assault in the areas of Highland and San Bernardino in 2003, according to Redlands Police.
Detectives said personal property belonging to Flores was also recovered near the area where the 2003 rape occurred.
In that case, the attacker contacted a female victim in the 25000 block of Baseline Avenue in the City of Highland shortly before midnight on April 19, 2003.
The victim voluntarily accepted a ride from the man who drove her to the 2200 block of West Washington Street in the City of San Bernardino, where he forcibly raped her, police said.
The victim escaped and police were notified.
Detectives were able to obtain a composite sketch of the man who the victim described as white, in his late 30s to early 40s, 5 feet 6 inches tall, approximately 250 pounds with black hair and a receding hairline.
The vehicle used in the 2003 crime was described as a burnt orange or dull orange small car, possibly with only two seats and likely a hatchback, with a black interior.
Anyone with information was asked to contact Redlands Police at 909-798-7681.