This is an archived article and the information in the article may be outdated. Please look at the time stamp on the story to see when it was last updated.
After a yearlong investigation into thefts of large chunks of redwoods trees that have left those soaring symbols of California with ugly scars, a Northern California man was arrested on suspicion of poaching, state and national parks officials announced Wednesday.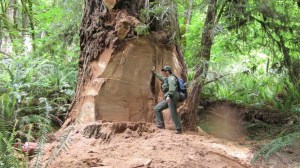 The arrest comes after Redwood National and State Parks on the northern coast of California have seen increasing incidents in recent years of the tallest trees on Earth being badly damaged by poachers. More poaching is being reported and the size of the chunks stolen has also grown.
Bandits have been after the valuable burl, a part of the tree that allows it to reproduce. The burl can also be shaped into a highly desirable and expensive pieces of furniture that sell for hundreds or thousands of dollars, according to Jeff Denny, supervisory park ranger for Redwood National and State Parks.
"It's not hard to imagine a piece like this being cut into a slab, polished up, and turned into a coffee table," said Denny, pointing to a giant chunk that was removed from a redwood.
James Simmons, owner of Wagon Wheel Burl, a family business that sells redwood furniture, said poaching was a problem. But concerns over the thefts, which have generated international attention, were overblown, Simmons said. He's had investigators frequently at his Orick, Calif., shop asking questions about the provenance of the wood in the items he sells.
"Nowadays, if I don't see the property it came off, I don't buy it," Simmons said.
There are legitimate sources of redwood — from private property — but those supplies are diminishing, authorities said.
Large chunks are often cut from the base of trees, but burls can also grow higher up on towering trunks. One redwood had been cut down to remove a chunk that was 50 feet up in the air.
"This uncontrolled and illegitimate harvesting of burls directly threatens individual old-growth redwoods, the prime resource of RNSP, a designated World Heritage Site and International Biosphere Reserve, and includes related impacts to the surrounding ecosystem, threatened and endangered species, and the parks' scenic values," a parks' news release stated.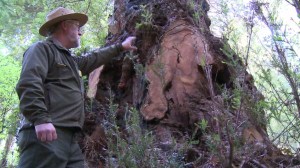 The parks contain nearly 40 percent of the world's remaining old-grown redwood forest.
The poaching was first discovered in the 208-square-mile park by a researcher in April 2013, according to a news release from the parks, which are headquartered in Crescent City.
An old-growth redwood, its trunk 10 feet in diameter, had been seriously damaged after several large burls were removed.
"The burls cut from the tree were massive," the release stated.
The largest was more than 8 feet across, and about 115 cubic feet in volume.
A burl that matched the cut was found at a local shop in Del Norte County, authorities said.
Danny E. Garcia of Orick, Calif., was arrested on suspicion of selling burls to the shop, which was not under investigation.
Garcia was charged with felony grand theft, vandalism and receiving stolen property, according to the news release.
Charges were also pending against another man — Larry Morrow, also of Orick — who was already serving time for unrelated charges, Denny said.
KTLA's Chip Yost contributed to this article.