This is an archived article and the information in the article may be outdated. Please look at the time stamp on the story to see when it was last updated.
Bill Sharman, an All-Star guard for the Boston Celtics in the 1950s who became coach of the Lakers and led the team to its first NBA championship in Los Angeles in record-setting fashion, died Friday. He was 87.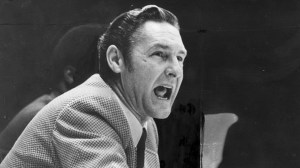 Sharman, who suffered a stroke last week, died at his home in Redondo Beach, said his wife, Joyce.
Sharman was elected to the Naismith Memorial Basketball Hall of Fame as a player in 1976 and as a coach in 2004, joining John Wooden and Lenny Wilkens as the only men honored in both roles, and in 1996 was selected as one of the 50 greatest players of the NBA's first 50 years.
In the summer of 1971, Jack Kent Cooke hired Sharman to coach the Lakers. Seven times between 1962 and 1970, the Lakers had reached the NBA Finals without winning, losing to the Celtics six times in the championship series.
Click here to read the full story on LATimes.com.