This is an archived article and the information in the article may be outdated. Please look at the time stamp on the story to see when it was last updated.
Lakers star Metta World Peace got a scare Monday night, when police responded to a report of four armed men outside his Westside condo complex.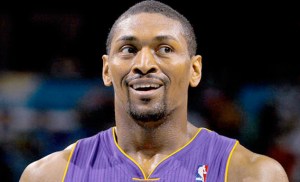 According to TMZ, the LAPD got a call around midnight about four armed men — three with handguns and one with a shotgun — lurking outside Metta's home.
Police initially handcuffed Metta's brother and cousin after they heard the commotion and came out to speak with cops.
Officers had to wake up the Lakers forward, who quickly vouched for his family.
Eventually, the so-called "armed suspects" came out and proved to police that they were actually residents of the complex.
They were apparently returning home with BB guns while recording a video, TMZ reports. The website says that the four men got off with a warning.