This is an archived article and the information in the article may be outdated. Please look at the time stamp on the story to see when it was last updated.
LOS ANGELES (KTLA) — The manhunt continued on Thursday for a man who wounded two LAPD detectives in an ambush outside the Wilshire Division in Mid-City.
Police released surveillance video of the alleged gunman on Wednesday in hopes that someone might recognize him.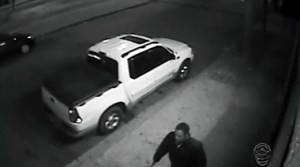 The video shows the suspected shooter, a black man believed to be in his early 30s, across the street as he took off, according to police.
He has an object in his hand, believed to be a gun, police said.
The shooting happened around 4:30 a.m. on Tuesday outside the Wilshire Community Police Station, located at 4861 Venice Blvd.
Two undercover LAPD burglary detectives were returning to the station in an unmarked car, LAPD Cmdr. Andy Smith said.
They were trying to open the front gate with a key card when someone opened fire on their vehicle from behind, he said.
Both officers were able to return fire, and the gunman fled on foot in a southwesterly direction.
One officer suffered a graze wound to the back of his head from either a bullet or fragments from the vehicle, and the other had an injury to his hand.
"This was a blatant attempt to assassinate two of the people that try to protect this community," LAPD Chief Charlie Beck said.
Beck has said that the department plans to apply to the city for reward money for information leading to the gunman's capture.
The detectives, described as 11- and 20-year veterans of the department, were treated at the hospital and released.
Within hours, they were back at the command post to help in the search for the gunman, police said.
Police spread out across the Mid-City area searching for the gunman, initially setting up a 25-block perimeter.
The area was locked down and residents were asked to stay inside their homes. They were only allowed to leave on a case-by-case basis.
Some 200 officers, along with members of the SWAT team conducted a street-by-street search, aided by K-9 units and police helicopters.
Police detained 10 people for questioning, but ultimately released all of them without making an arrest.
Anyone with information was asked to contact the LAPD at 1-877-ASK-LAPD (275-5273).