This is an archived article and the information in the article may be outdated. Please look at the time stamp on the story to see when it was last updated.
LOS ANGELES (KTLA) — Although no serious attacks have been reported in the multiple shark sightings at Southland beaches this summer, the ocean predators are being studied by local researchers.
"It's always something that you kind of think about, but I'm not scared of them at all," surfer Samantha Wright said, referring to juvenile great white sharks. "They're kind of always out there; we just don't really see them."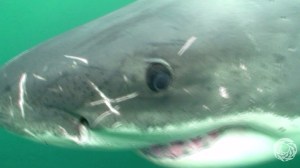 One was reeled in this week in Manhattan Beach. Two others — one 5-feet long, the other 7-feet long — were also spotted.
The Southern California coastline is a nursery of sorts for great whites, scientists say.
"What we don't know is why they use certain areas, like Santa Monica Bay," said Professor Chris Lowe, who heads the Shark Lab at Cal State Long Beach. "Dana Point, San Onofre, even off Ventura seems to be places where these young white sharks come in close to shore but we don't really know why they're there."
Lowe theorizes that the baby great whites gravitate to the local coastline because the shallows are stocked with food.
"Their primary focus is things on the bottom," he said. "So they're eating a lot of stingrays and skates and halibut and things that are easy to catch on the bottom."
Good news for local beachgoers: Because baby white sharks have not yet learned to hunt, humans are not their target.
"People really don't need to worry about these young sharks," Lowe said. "First of all, they're very young and they're very naive — and they're actually scared."