This is an archived article and the information in the article may be outdated. Please look at the time stamp on the story to see when it was last updated.
A 52-year-old Reseda man was charged Tuesday with multiple criminal counts in connection with an hours-long standoff at disabled veterans hall in Winnetka.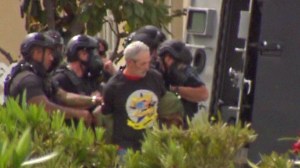 Jacob Matthew Zimmerman allegedly assaulted an official at the facility on April 25, according to the Los Angeles County District Attorney's Office.
Zimmerman was charged with one felony count each of assault with a deadly weapon, criminal threats, and possession of a firearm by a felon.
He was upset that he had been denied membership at the Disabled Americans Veterans Lodge and assaulted the lodge's commander-in-chief with a shotgun, according to the prosecutor.
He then allegedly barricaded himself inside the building, prompting a seven-hour standoff with SWAT officers from the Los Angeles Police Department.
At one point, he appeared to throw a smoke-emitting tear gas canister back at officers after they launched it through a window in the Corbin Avenue building, aerial video from the scene showed.
Area streets were shut down and residents were warned to stay away during the barricade situation.
Zimmerman was convicted in 1984 of robbery and in 2004 of discharging a firearm with gross negligence and inflicting corporal injury on a spouse or cohabitant, according to the DA's office.
He was due for arraignment in Van Nuys Superior Court Tuesday afternoon. He was being held at the downtown Los Angeles Twin Towers Correctional Facility on $1.05 million bail, online county inmate records showed.
Zimmerman faces a maximum sentence of life in state prison if convicted on all charges.