This is an archived article and the information in the article may be outdated. Please look at the time stamp on the story to see when it was last updated.
Residents of an upscale neighborhood in Pacific Palisades expressed anger Thursday that a "dangerous" Boerboel mastiff was still living on their street despite an order to have the dog removed.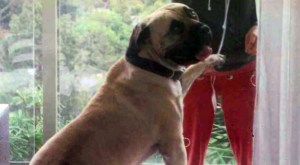 The 150 pound dog had allegedly attacked several people living on Chautauqua Boulevard as recently as Tuesday, according to resident Winston Salser.
Another neighbor, Stewart Levine, filed a personal injury claim against the dog's owner after allegedly being attacked while doing yoga.
The residents wanted action taken before someone else gets injured.
Kimberly Cheng reports for the KTLA 5 News at 10 on Thursday, June 5, 2014.