This is an archived article and the information in the article may be outdated. Please look at the time stamp on the story to see when it was last updated.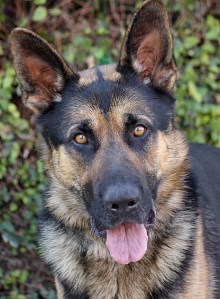 HAWTHORNE, Calif. (KTLA) — A $10,000 reward was being offered Monday for information leading to the return of a stolen therapy dog trained to work with disabled U.S. veterans.
"Bear," a black-and-tan German shepherd, was reported stolen June 19 from a backyard in Hawthorne, Richard Davis of The Bodyguard Group said.
Because Bear was staying with Special Operations combat veterans, the exact address could not be revealed, but the house was in the area of 119th Street and Birch Avenue, Davis said.
In addition to Bear's private security duties, he also volunteered at local hospitals where he visited veterans and sick children.
The Beverly Hills-based The Bodyguard Group provides referrals services to celebrities and political officials and offers free job placement for Navy SEAL and other former military service members.