This is an archived article and the information in the article may be outdated. Please look at the time stamp on the story to see when it was last updated.
After officials began locking the turnstiles to the Los Angeles subway in June, stopping many passengers from riding for free, the volume of people entering the system may have fallen significantly, according to data reviewed by The Times.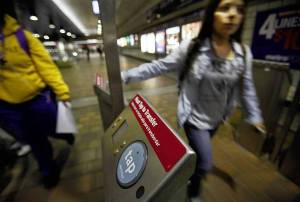 From May through October, the number of people passing through turnstiles each month fell from 4.8 million to 4 million, according to the data. Over the same time frame, however, the Los Angeles County Metropolitan Transportation Authority's ridership estimates climbed by about 400,000 passengers.
In September, the first full month that all gates were locked, about 3.7 million people were counted entering the subway — a decrease of 23% from May.
Metro officials said they cannot explain the discrepancy, and aren't sure whether ridership has fallen or not. They cautioned that the data were preliminary.
Click here to read the full story on LATimes.com.