This is an archived article and the information in the article may be outdated. Please look at the time stamp on the story to see when it was last updated.
A Riverside pug owner touched by the story of a terminally ill girl's wish to have a puppy had planned to fulfill the child's dream by asking an acquaintance to deliver a tiny dog named "Mu Shu" to the girl.
Instead, police became involved in what turned into a six-week dog-napping caper that may lead to felony theft changes.
In late November, Shawn Hamon asked a woman she knew through her dog rescue work to take an 8-week-old puppy – "Mu Shu" – to a Northern California child suffering from leukemia.
Hamon, who has three pugs, said she had learned about the child's wish to have a pug puppy through a friend's daughter who knows the family, she said.
"We looked to get her one for Christmas to make her Christmas dream come true – because she was terminally ill," Hamon said.
But Mu Shu never arrived for the girl, whom Hamon described as an 8-year-old named Tiffany.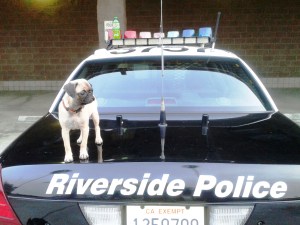 Hamon tried to contact the woman tasked with the delivery and then had her attorney contact her. The woman – whose name Hamon wouldn't reveal – evaded Hamon and refused to give the dog back.
"She was a crazy woman," said Riverside police Sgt. Kevin Townsend. "Shawna – great person – was just trying to get a dog for a sick child."
After Hamon filed a police report, Riverside police Officer Anthony Watkins was able to get a search warrant for a home in the Los Angeles neighborhood of Atwater Village. On Tuesday, Watkins recovered the dog from a home in Hollywood where the L.A. woman had hidden it at a neighbor's upon learning of the police search, according to a news release from the Riverside Police Department.
"Yesterday, he called me on his way back and said, 'I've got your baby sitting in my lap,'" Hamon said. "She's doing very well."
Hamon and Mu Shu were reunited Tuesday evening after Watkins returned to Riverside.
Hamon plans to deliver Mu Shu in person to Tiffany in Philadelphia, where the girl was in treatment. Police said she was received experimental treatment for leukemia.
"It was just a blessing. I'm so blessed that they went and above beyond to make this little girl's dream come true," Hamon said of police.
Watkins was not available to talk on Wednesday. Police plan to present a case of felony theft against the Los Angeles woman to the Riverside County District Attorney's Office, Townsend said.
Hamon, meanwhile, said she would keep "Mu Shu" with her in the cabin during the flight to Philadelphia.
"We will not put her in cargo," Hamon said.