This is an archived article and the information in the article may be outdated. Please look at the time stamp on the story to see when it was last updated.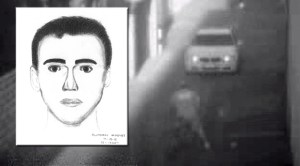 Watch the driver of this BMW gun it and  according to police intentionally ram this bicyclist.
The driver  slams into the victim  pinning him between a trash bin and the wall.
"I hear some noise, maybe car with a trash can," George Chacon, witness.
Chacon watched the case of road rage happen live on surveillance cameras in his office.
"I see when the car come back reverse another guy is outside," Chacon says.
See the driver drag the victim until he falls off the vehicle and is  left bruised and bloodied in the alleyway.
"Prior to the driver chasing down the bicyclist he did make the comment that he was going to kill the bicyclist so we are investigating this as an attempted murder."
Beverly Hills police say the road rage began at the intersection of nearby Doheny and Clifton Way — April 3rd around 6 o'clock — tempers flared between the driver  and bicyclist over who had the right of way.
"The bicyclist self admittedly punched the driver in the face, the bicyclist then rode away on his bike at which time the motorist chased after the bicyclist."
And that's where cameras on this nearby alleyway of Wilshire captured the white BMW  3 series smack into the bicyclist — this is sketch of the driver man believed to be in his 30 and of white or of middle eastern decent that's according to the victim who apologized to police for antagonizing the driver in the first place.
"Right away he said this is what he did he realized it was a mistake but still that doesn't give anyone the right to chase someone down and run them over."
The victim luckily suffered bumps and bruises and is expected to be ok…
Police believe the white BMW suffered some front end damage…  if you can help….. Beverly Hills Police   310-285-2156.
— Sara Welch, KTLA News