This is an archived article and the information in the article may be outdated. Please look at the time stamp on the story to see when it was last updated.
A six-year foray into the U.S. supermarket business for U.K. grocery giant Tesco neared an end Tuesday when it announced it was selling three-quarters of its 200 Fresh & Easy stores to Los Angeles-based Yucaipa Cos.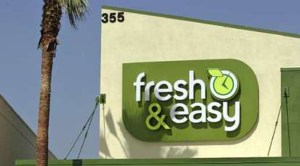 The L.A. investment firm, controlled by billionaire Ron Burkle, is known in part for previous grocery-chain takeovers.
Fresh & Easy stores first opened in the region in 2007 with an unusual business model that used a smaller square footage than a traditional U.S. supermarket, leaving some shoppers comparing locations to Trader Joe's.
The chain never made a profit.
Tesco announced in April that it planned to sell the stores, which are located in California, Arizona and Nevada.
Yucaipa Cos. will acquire more than 150 stores, meaning about a quarter of the existing Fresh & Easy locations will close, according to Tesco.
It's not yet clear which stores will close, but those that are not part of the deal will be shuttered in "coming weeks," Tesco said.
Fresh & Easy said in a  statement to customers that they would soon by notified about how to re-enroll in the chain's rewards program under the new owner. Customer can use their points at closing stores through final sales, the company said.
More than 4,000 employees will move to the new business, Tesco said. The company now employs about 5,000 workers, including 1,300 at a warehouse facility in Riverside, according to Tesco.
"The decision we are announcing today represents the best outcome for Tesco shareholders and Fresh & Easy's stakeholders," Philip Clarke, CEO of Tesco, said in a statement. "It offers us an orderly and efficient exit from the US market, while protecting the jobs of more than 4,000 colleagues at Fresh & Easy."
Tesco said the deal is expected to be completed in three months.
"Fresh & Easy is a tremendous foundation. Tesco should be applauded for giving their customers an affordable, healthy, convenient shopping experience. Its dedicated employees and great base of customers give us a solid starting point to complete Tesco's vision with some changes that we think will make it even more relevant to today's consumer," Burkle said, according to the Los Angeles Times. "We plan on continuing to build Fresh & Easy into a next-generation convenience retail experience, providing busy consumers with more local and healthy access for their daily needs."