This is an archived article and the information in the article may be outdated. Please look at the time stamp on the story to see when it was last updated.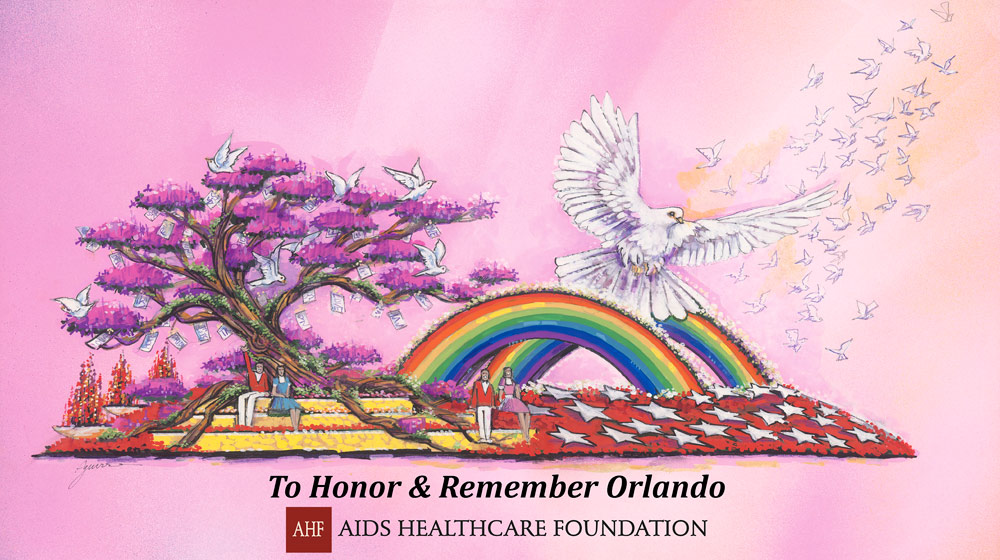 Dimensions: 20'H x 18'W x 55'L
Float Title: To Honor & Remember Orlando
Float Theme
AIDS Healthcare Foundation dedicates this floral tribute to the memory of those that perished
in the terrorist attack/hate crime perpetrated at Pulse, a gay nightclub in Orlando, on June
12, 2016. This float also serves as a tribute to those who survived. It carries the message
that peace and love will overcome the ignorance of those that hate. A magnificent floral
white dove, a symbol of world peace, soars high above a field of 49 stars. One star for each
of those that died. During the Parade there will be two actual dove releases, each consisting
of 49 birds. The double rainbow exemplifies the power of promise, beauty and enlightenment
with the message of eternal hope and life. At the back of the float, a Memorial Tree stands
strong and displays replicas of actual loving messages of condolences from those that lost
their loved ones. Stored inside the float are over 5000 memorial notes and reflections of
comfort and encouragement AHF collected from around the world. AHF's 2017 Tournament of Roses
parade theme serves far more as an echo of remembrance and tribute than a literal "Echo of
Success." As AHF's float seeks to respectfully honor and remember, as well as celebrate the
lives of those lost or wounded (and the loved ones and families affected) at 'Pulse,' it also
pays tribute to the strength and resilience of the Orlando community. Through our float we
aim to capture echoes of the grace, compassion and endurance shown by those affected in the
Orlando community as well as shown in solidarity by those across the nation and around the
globe. It is AHF's hope that our echoes of Orlando overpower the narrowmindedness, stigma,
discrimination and hatred that gave rise to this senseless attack. Echoes that increasingly
reverberate and swell as the triumph of the human heart and spirit—echoes of the 'Pulse' of
community, as it were—over such a profound, disheartening and senseless act.
Flowers/Materials used
Crisp white coconut chips and white dendrobium orchid florets adorn the sculptured dove with
its outstretched wings… Rainbows are designed in over 12,000 individual flowers of red,
orange and yellow roses, blue iris and green salal garlands. The tree bark is decorated in
cranberry leaves with thousands of lavender dendrobium and alstroemeria blossoms creating the
floral canopy. Individual memorial notes are crafted in black onion seed and white sweet
rice. Stars of white sweet rice float over gardens consisting of 15,000 roses, carnations and
gerbera. Green and white floral displays frame the float and are designed from cymbidium
orchids, anthuriums, bells of Ireland, Trix dianthus, hydrangea, gladiolas and leucadendron.
All text and information courtesy Pasadena Tournament of Roses.