This is an archived article and the information in the article may be outdated. Please look at the time stamp on the story to see when it was last updated.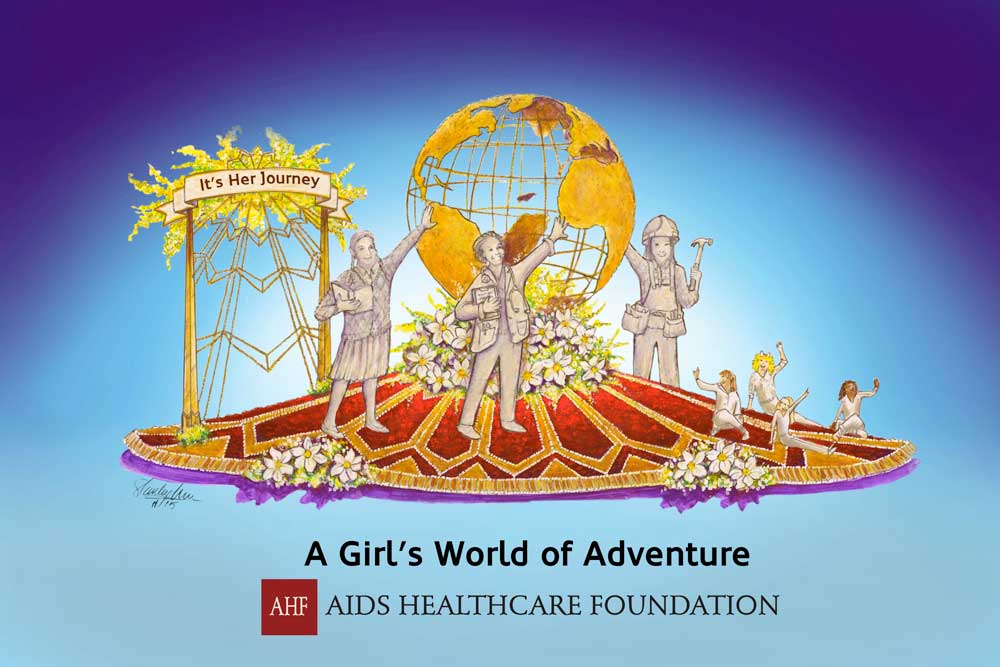 Dimensions: 18'H x 18'W x 55'L
Builder: Fiesta Parade Floats
AIDS Healthcare Foundation (AHF), the largest AIDS Service Organization in the world providing direct care to over 500,000 people in 36 countries, is honored to dedicate their float in the 2016 Tournament of Roses Parade to Women of Action (WoA), a new AHF global effort focusing on empowering girls ages 5-13 by encouraging education, empowerment, equality, health and wellbeing and sisterhood at an early age. A world globe, emphasizing the global need to empower disadvantage girls and woman of the world that are overshadowed by oppression and trapped in poverty, takes center stage as four oversized "marble" sculptured girls, each of different ethnicities, raise one arm in an outstretched stance to hold up the globe. Each girl is dressed to represent a different job or profession a girl can aspire to; teacher, doctor, construction worker and business executive. At the back of the float is an Art Deco inspired garden arch with a banner proclaiming "It's Her Journey". Yellow roses and Oncidium orchids cascade from high above. At the front of the float five girls, each representing the five continents that AHF works on (Asia, Eastern Europe, Latina America, Africa and the US/Americas) ride on the float.
The world globe is covered with gold strawflower petals and holds a magnificent floral display of thousands of yellow roses, Oncidium orchids, forsythia and euphorbia. The sculptured girl statues have been artistically created in individual pieces of lunaria to represent the color and texture of marble. Over 50,000 red Freedom roses, carnations and gerberas complete the floral gardens with overlaid Art Deco inspired design patterns of gold strawflower petals.
AIDS Healthcare Foundation (AHF), the largest global AIDS organization, currently provides medical care and/or services to over 360,000 individuals in 36 countries worldwide in the US, Africa, Latin America/Caribbean, the Asia/Pacific Region and Eastern Europe. AHF has grown from a small group of passionate AIDS activists working together in 1987 to create California's first AIDS hospices to its current status as the nation's largest provider of HIV/AIDS medical care in America and a global leader in providing medical care and advocacy on behalf of more than 360,000 people in 36 countries. AHF is a leader in HIV prevention and the care and treatment of those living with HIV/AIDS regardless of an individual's insurance status or ability to pay around the globe, and is expanding its reach to include addressing more general global public health issues.
All text and information courtesy Pasadena Tournament of Roses.